Sports Spotlight: Northwoods League Umpires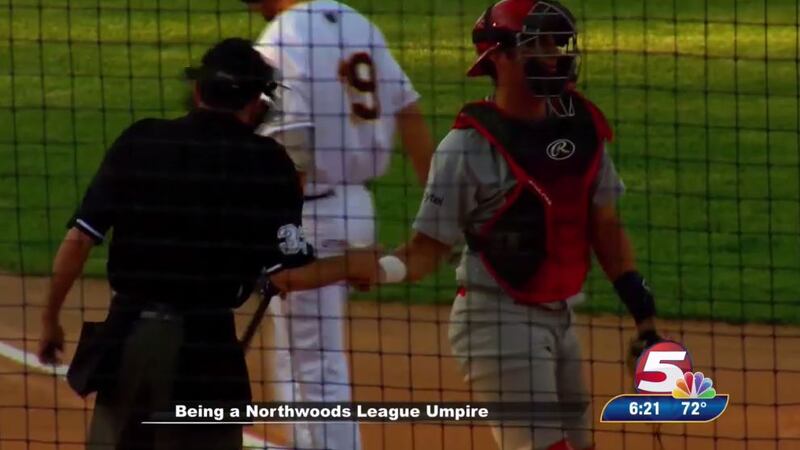 Published: Jul. 12, 2017 at 5:59 PM CDT
Having the Bismarck Larks brings new faces to town both on the field and behind the plate. While we may not realize it, the umpires in the Northwoods League come from all across the country, just like the players do.
They're always seen as the bad guy. One wrong call, and you've got the manager talkin' with you. But if you make the right call, the fans are right there cheering for you.
Matt Stern, an Umpire for Northwoods League baseball describes it as, "I mean, it's the best feeling in the world."
While it may look easy, these umpires go through months of training at umpire school. "Well it all started back in January. I went to a professional school called Wendelstedt Pro Umpire School in Daytona Beach for five weeks, and then after that, I went to another camp called Outs at Cocoa Beach, and that's essentially how I got hired.
Just because you went to umpire school, doesn't mean it's not tough competition. With around 100 students per class, Stern says, "it's tough, I mean it's extremely competitive, I mean, everyone wants to do it."
So now you're an umpire in the Northwoods League, paired up with two other guys. "The two guys I'm with, we're like brothers. So it's a lot of fun. We got really close at umpire school, and ever since then, we've been really close."
Having a good relationship with your co-workers is a must, especially on those long road trips.
"Traveling is fun. It can be a grind sometimes, because we do travel, we'll travel 7,000 miles in three months or something like that, driving from town to town." And while racking up those miles in the car can get tiring, these umpires make sure to bring their A-game, every game.
"Our ideas as umpires, we try to be fair, but we also try to build a rapport with the players, a relationship with the players so that way they know how we operate, we know how they operate, so it makes our job easier."
But at the end of the day, regardless of the score, they're just living the dream. "Nothin' else like it. It's one of the greatest, just everything outside, out of the field, nothing else matters."
After working in the Northwoods League, Stern says the next step is to call games in the professional minor leagues.