Wife of fired Ward County deputy speaks out at personnel meeting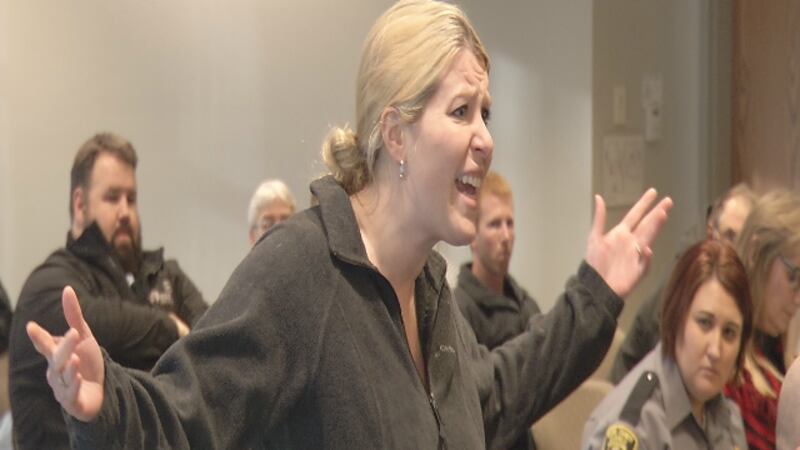 Published: Jan. 16, 2018 at 5:39 PM CST
A Ward County resident and wife of a former Ward County deputy engaged in a heated back-and-forth with the county's personnel committee in a grievance hearing Tuesday afternoon.
If you remember, late last month, the Ward County Sheriff fired Deputy Timothy Poston, following a months-long debate between Poston and the County.
Poston had accused Sheriff Barnard of discrimination and State's Attorney Roza Larson of sexual harassment, but an outside investigator did not find the complaints credible enough.
In his "pink slip" to Poston, Barnard accused him of insubordination and of alarming human resource workers following personnel meetings.
"You were elected by us! These are your problems, and they're not going away until you fix them. You can't shift blame to everybody else, you can't shift blame to your employees. I suggest you take those smug looks on your faces and start fixing these problems. This is insane!" said Toni Poston, wife of former Dep. Timothy Poston.
This hearing was supposed to be for John Roll, who had worked with the county for 17 years as a custodian. Roll filed a grievance, contesting an employee evaluation that could impact his pay.
"The time for this meeting will be one half hour. Mr. Roll will have 10 minutes to present his case," said Commissioner Alan Walter.
Roll elected to have his lawyer Larry Hellie speak on his behalf, who objected to having ten minutes to present this case.
"if you don't correct this grievance process, start treating your employees with respect as required in your code of ethics and in your handbook. You are certainly going to have more problems and more grievances and more issues," said Hellie.
That's when Toni Poston spoke out.
"If you're going to give him 10 minutes to grieve it, it's not fair it's not legal. You're blatant disrespect for the law is disgusting," said Toni Poston.
The personnel committee elected to recess the issue until they get more information.
We reached out to the personnel committee for comment but they refused at the advice of their lawyer.