UPDATE: Missing 4-month-old baby found dead in Stutsman County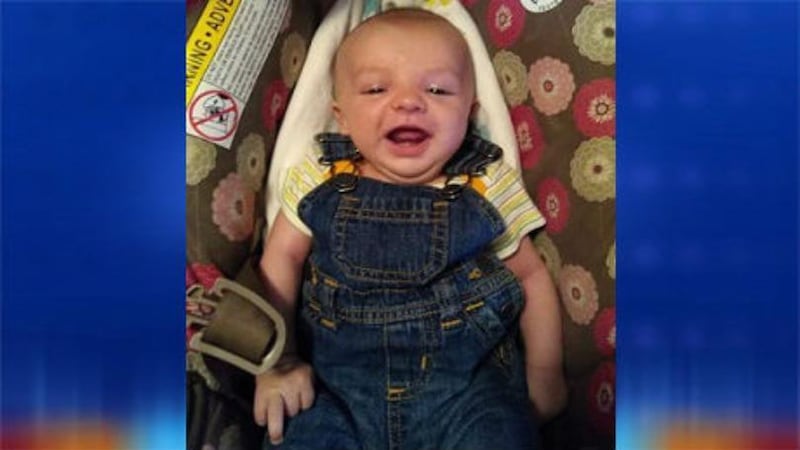 Published: Jul. 7, 2018 at 4:19 PM CDT
UPDATE 7:00 PM: tragic end to the search for a missing four month old baby.
This afternoon, law enforcement was able to locate the body near a slough in rural northwestern Stutsman County.
A two day search came to a close on Saturday afternoon, with an outcome no one wanted to see.
"It's a sad day, we kinda knew this was gonna happen this way but until it happens but it is good that we did find the four month old for the families for everybody's sake to get some closure," said Stutsman County Sheriff Chad Kaiser.
The body of the 4-month-old boy was found on the edge of a slough off of 65th avenue southeast, east of Woodworth in northwest Stutsman County. Kaiser says they were able to get more information Saturday from the mother, Justice Lange, and one of the searchers on foot found the boy covered in some reeds.
We're not really sure when the baby passed away.
Lange and the boy were reported missing on Monday along with a truck reported to be stolen. Lange and the truck were found on Friday a couple miles from the slough. Lange was taken to a hospital in Fargo, but Kaiser says he's unsure of her condition. Kaiser says Lange couldn't remember the last time she had the boy.
Agencies from across the state including the North Dakota, the bureau of criminal investigation, sheriff's deputies, and fire and police from Stutsman and foster counties as well as Jamestown assisted in the search. Boats and search dogs were also on hand.
Kaiser from Bismarck to Fargo you know calling up wanting to know if we needed any help so it's very nice to have that support especially with weather like this you need all the help you can get.
Kaiser says there were no injuries to any of the people or dogs searching despite the heat.
Kaiser says he will be talking with the state's attorney, and will wait for the autopsy to be complete before moving forward with any legal action.
ORIGINAL STORY: The body of the 4-month-old baby boy that Carrington police have been looking for since Monday, was found Saturday afternoon, according to Stutsman County Sheriff Chad Kaiser. The child was found in some reeds in Stutsman County by some people walking by around 2:30 Saturday afternoon. Family has been notified.
Carrington Police had been looking for 25-year-old Justice Lange and son due to several warrants out for Lange, along with conducting a welfare check on her 4-month old son. The vehicle she was driving was marked stolen in an attempt to locate her and the baby.
The baby's mother and the vehicle were found in the rural Woodworth area Friday morning.
She was taken to a hospital in Carrington and then transported to a hospital in Fargo for unknown injuries. She's now being held on warrants out of Carrington.
The vehicle she was driving was located about two miles away from where Lange was found by the North Dakota Highway Patrol plane. Stutsman County Sheriff Chad Kaiser says Lange told authorities the last time she had seen her son was near a slough in the area where the vehicle was found, but was unsure when that was.
The Stutsman County Sheriff's Office, along with Carrington Police, Foster County Sheriff's Office, North Dakota Highway Patrol, federal Game and Fish and the Bureau of Criminal Investigation spent Friday afternoon searching the slough where Lange says she last saw the child.