Swedish climate activist Greta Thunberg visits Standing Rock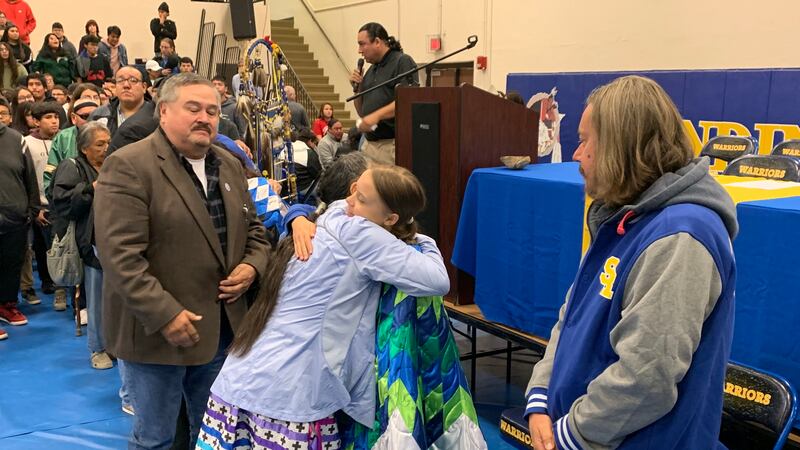 Published: Oct. 8, 2019 at 7:47 PM CDT
Sixteen-year-old Swedish climate activist Greta Thunberg sailed from the U.K. to the U.S. this summer.
She's also addressed the United Nations.
Tuesday morning she was in Standing Rock with environmental activist Tokata Iron Eyes.
And while she and her message has stirred up controversy both here and around the world, Tuesday's crowd admired her for taking such a firm stand.
Greta and Tokata were at Standing Rock high school talking to students about their mission: a fight to bring awareness to climate change globally.
They spoke to students during the forum. Iron Eyes spoke to Your News Leader after the panel but Thunberg wasn't made available for comments.
We asked for an interview ahead of the event and after the panel but Thunberg was escorted out by BIA
A teenager on a journey to have her voice heard by global leaders.
Tokata said: "She told me that she would like to come to our community and I invited her and I said yes this would be wonderful. I think the message to spread to the world is that, in this fight, there's no imaginary boundaries between us. This crisis puts us all on the same level."
Tokata and Greta spoke to students about how they could get on board with their mission.
"We need to be creative to come up with every possible way to make your voice heard and to push in the right direction. And one thing as we have said is to inform yourselves and especially inform the people around you," said Greta.
The Standing Rock Sioux Tribe is taking steps to support that message. They've added solar panels to conserve energy.
High school student Senna Young Bird said: "We all need to save the planet."
While some supported the message, others talked about Greta and the movement she's starting at such a young age.
"Greta, she's just an amazing young girl. To come over here, she just blew me away," said teacher Laurel Iron Road.
Iron Road says if Greta can make changes so can the children on the reservation.
At the end of the panel with Tokata, Greta was honored with a Lakota name "Woman Who Came From the Heavens."
Tribal members say she is awakening the world and they stand by her mission.