Stitching together quilts and life lessons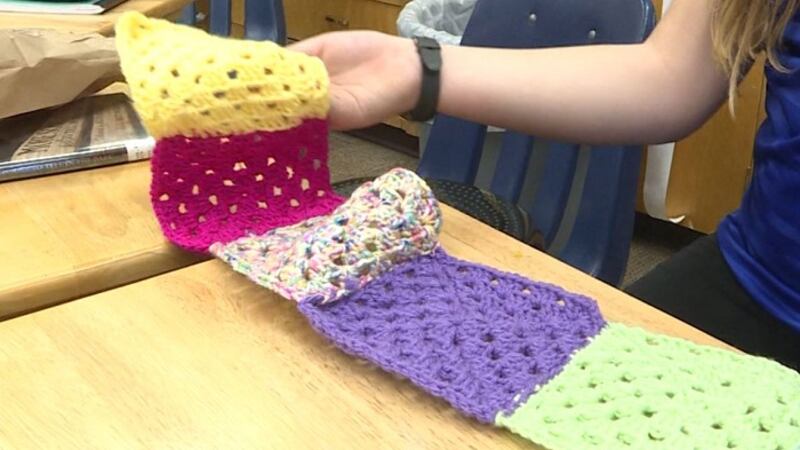 Published: Nov. 24, 2019 at 3:16 PM CST
Retirement is something many of us dream about. But sometimes, for some people, it's not all it's cracked up to be.
Vonnie Doone is one of those people.
Doone is happy to be back at Bismarck's Northridge Elementary. She retired after nine years as an instructional aide here. But she couldn't stay away.
"I'm bored," she admited with a laugh.
Her cure for boredom? Crocheting.
"I just started crocheting and using some of the yarn I had in my room," said Doone.
Doone crocheted more than 300 squares and brought them here, to Jessica Frohlich's fourth grade classroom. Then, the kids took over.
"They're supposed to sew them together in a strip of 10," said Doone.
Russ Lone Bear picked out squares in some of his favorite colors.
"I picked out maroon, bright yellow, dark green, brown and blue," said Lone Bear, as he sorts through his squares.
Now, Lone Bear and his classmates are learning to sew the squares together.
"This is my first time making a quilt out of yarn," said fourth grader Sidney Logan.
These strips of squares will be sewn together to make one big quilt and several smaller quilts. They'll all be given away
"We are going to put smiles on people's faces," said Doone.
"We want to give them to people who need a little extra love around the holidays," said Frolich.
So while the students learn to sew, Mrs. Frohlich knows there are other—more important—lessons being learned with each stitch.
"Learning that we can let people we care about them, learning that we can work together as a team to build a better community and a better place to be," said Frohlich.
The students will give one quilt to a fellow Northridge students who was recently diagnosed with cancer. They're looking for other places to donate the rest of the quilts.