State, Army Corps prepare for final evacuation of main DAPL protest camp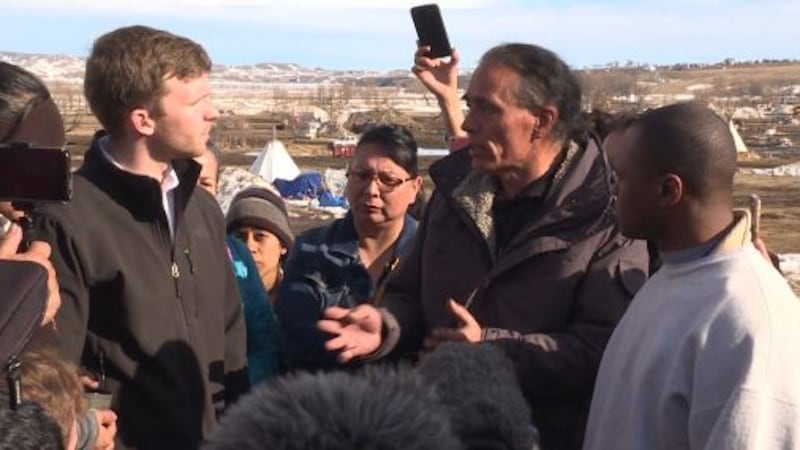 Published: Feb. 21, 2017 at 9:23 PM CST
Wednesday at 2 p.m. is the deadline for protesters to leave the main Dakota Access Pipeline camp or risk arrest.
Tuesday, representatives from the governor's office and the Army Corps of Engineers laid out the plan for evacuating the camp.
The message from the state remains the same: it's time to leave the Dakota Access Pipeline protest camps.
"The first priority is life health and safety of everyone in this camp as it relates to potential flooding, and the second is preventing an environmental disaster by getting this camp cleaned up as quickly as possible," says Levi Bachmeier, Governor Burgum's Policy Advisor.
Camp cleanup continues as protesters and state contractors rush to get everything out of the camp before a potential flood.
Some protesters are firm: they won't be leaving.
"I have no fear. I am living, I am living in the purist form I can. If there are people who want to harm me that's on them," says Eric Wallace-Senft, protester.
However, others were less sure of their decision but still anguished as they cleaned the camp.
"There's obviously despair, you know, that's true. There's like a deep sadness. This was something, this was beautiful, what was built here," says Ellie Davis, protester.
The 2 p.m. deadline remains firm from the Army Corps and the state.
The Departments of Human Services, Emergency Services and Department of Health are all partnering to provide transportation, food and one night at a hotel to anyone from the camp wishing to leave the state.
A travel assistance center will be set up in Bismarck where anyone can receive a check-up, a hygiene kit, a $15 meal voucher and a bus ticket to anywhere in the lower 48 states.
"Our goal is that everyone who wants to vacate the camps prior to 2 p.m. tomorrow has every resource available to do so," says Bachmeier.
All who remain are subject to arrest.