Post Master General visits Bismarck to address mail volume issues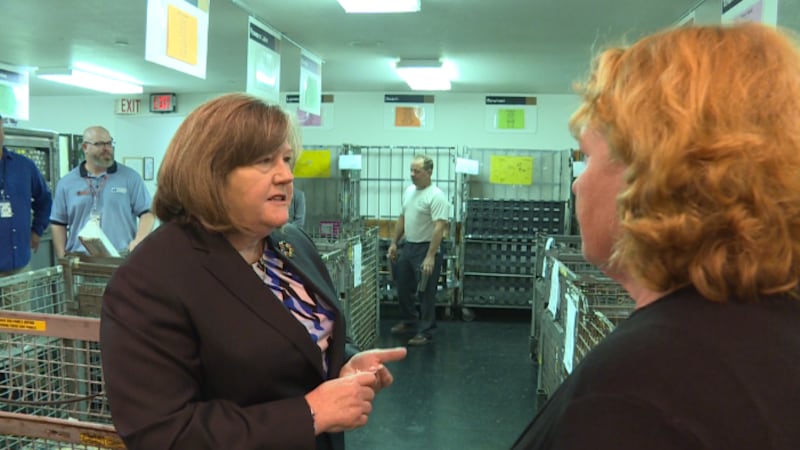 Published: Aug. 11, 2016 at 5:57 PM CDT
Rural America has faced increased delivery times, reduced service standards, and a distressed Postal Service workforce according to a Postal Service Inspector General report on mail volume.
Still, Postal Service officials say they're committed to improving service in rural areas. ​
Wayne Pruse of Impact Gallery in Bismarck uses the Postal Service to send his art around the world.
"I think it's a very inexpensive way to send probably 90 percent of whatever, if not higher, than what you're going to do," said Pruse.
In rural North Dakota, however, it's more of a struggle. Some have trouble getting mail delivered. Others have too much volume for their post office to handle.
Postmaster General Megan Brennan says she's trying to fix those issues.
"Particularly here in North Dakota, we have roughly 1,900 dedicated Postal employees who work hard every day to serve their communities, and rural America matters to the postal service and we're committed to continuing service improvement," said Brennan.
Sen. Heidi Heitkamp invited Brennan to tour a Bismarck sorting facility to see some of the issues firsthand.
"We have a postmaster general who does things like this, who comes out, who sends her people out, who responds to questions, but, those questions persist." said Heitkamp.
Brennan says some of those questions can be answered if Congress gave more USPS pricing flexibility. Heitkamp suggests allowing the service more room to innovate.\
If you'd like to voice your concerns about the Postal Service, you can go to http://www.heitkamp.senate.gov/public/index.cfm/fixmymail
That leads to Heitkamp's Fix My Mail initiative. Since launching the site earlier this year, she says she's received more than 550 letters.