Protesters graffiti equipment, attach selves to machinery at Dakota Access Pipeline construction site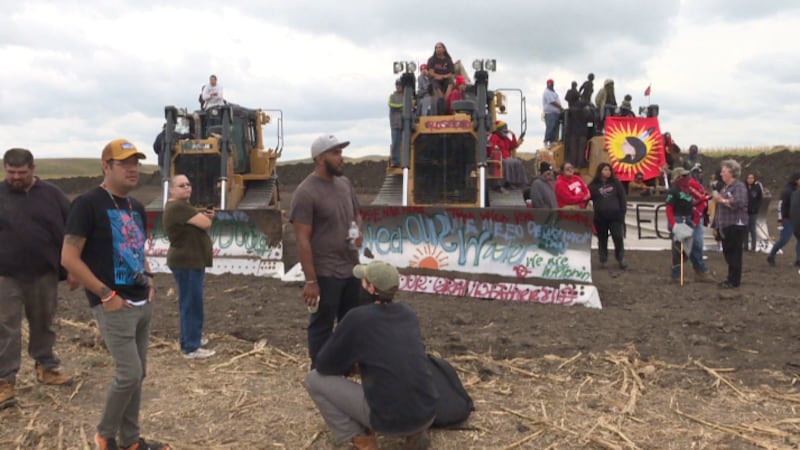 Published: Sep. 6, 2016 at 5:49 PM CDT
Demonstrators say if the courts don't prevent construction, they have another card to play.
Building a pipeline costs a lot of money. The Dakota Access Pipeline could cost in the neighborhood of $4 billion. Those opposing it want to make it even more expensive.
Akicitawin, or Warrior Woman, is written on the handcuff Julie Richards used to chain herself to a piece of heavy machinery to prevent work on the pipeline.
"We're making a statement that our ancestors fought so that we shall remain. It's up to us to do the same for our future generations," says Richards, South Dakota.
Situated under a Warrior Woman flag on a graffitied excavator activists say disturbed sacred sites on Saturday, Richards fears how further oil development will affect Native women.
"We're going to protect our water and we're going to protect our native women from these man camps, the drugs, the sex trafficking," says Richards.
Actions like this one have become more common recently as activists try to make those with the money behind this project sweat.
"It costs them money and they have to replenish that money. Their investors are worried. We know that. We've been informed of that," says Cody Hall, Eagle Butte, S.D.
Including the site Tuesday, demonstrators have shut down the Dakota Access Pipeline at six different work sites in the past week.
"I wish we could do more. I wish we could do more. I wish we had the power to stop a lot more," says Jarid Kopaney, demonstrator.
Protesters say they will do as much as they can to try to make sure Dakota Access can't complete the pipeline.
Green Party Candidate for President Jill Stein joined demonstrators at the site this morning. She tweeted
"I will stop the Dakota Access Pipeline & redirect fossil fuel subsidy $$$ to guarantee good green energy jobs for every oil worker. #NoDAPL"​
.