Protester arrested after handcuffing himself to backhoe to halt Dakota Access pipeline construction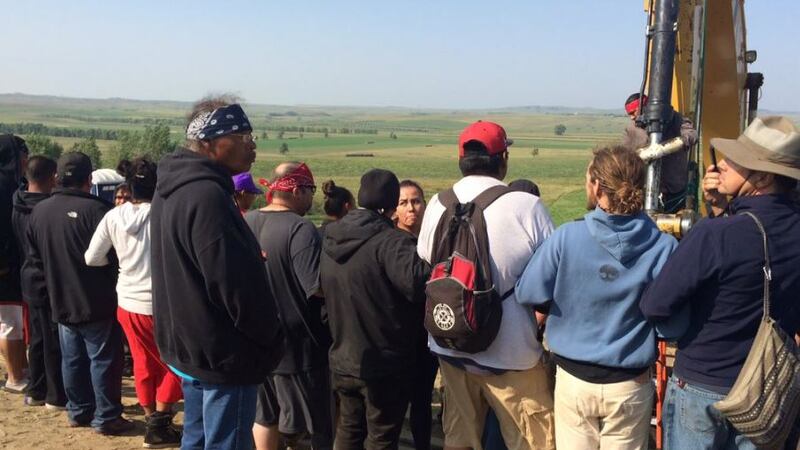 Published: Aug. 31, 2016 at 10:14 AM CDT
UPDATE: 8/31/2016 2:06 p.m.
At approximately 7:22 a.m., ND State Radio received a call of people crawling on construction equipment near the Dakota Access Pipeline site on Highway 6, four miles south of St. Anthony. When Morton County deputies arrived there were over 50 protesters on site with two men bound to the equipment. Deputies arrested eight protesters.
Highway 6 has been closed due to traffic safety concerns related to this latest protest activity. The roadway is closed at the junction of Hwy 6 & 138A and Hwy 6 & 21. Traffic will be diverted to Hwy 1806 which is temporarily allowing traffic through to avoid the more serious traffic safety issue on Highway 6. Wide loads should avoid Hwy 1806 due to width restrictions.
UPDATE: 8/31/2016 1:37 p.m.:
Dale American Horse Jr. was arrested for handcuffing himself to a backhoe at the Dakota Access pipeline protest site south of Mandan. Police spent all morning trying to get him down.
Authorities pushed a group of protesters surrounding American Horse back 100 yards. Police arrested Several demonstrators in the process.
ORIGINAL STORY 8/31 10:15 a.m.:
A protester attached himself to a piece of heavy machinery in an attempt to halt production of the Dakota Access pipeline south of Mandan.
Police say they've made two arrests Wednesday morning for disorderly conduct and trespassing; and the man that other protesters call "Happy" that attached himself to a backhoe will be the third.
Police and firefighters are working to bring "Happy" off the piece of equipment.
The North Dakota Department of Transportation also says part of Highway 6 is closed because of this incident.
During the temporary closure motorists are advised to use alternate routes, and traffic on ND 6 will be re-directed to other roadways.
For information about construction projects and road conditions throughout North Dakota, call 511 from any type of phone or visit the Travel Information Map on the NDDOT website at http://www.dot.nd.gov/travel-info-v2/