ND Career Builders Helping Meet the State's Workforce Needs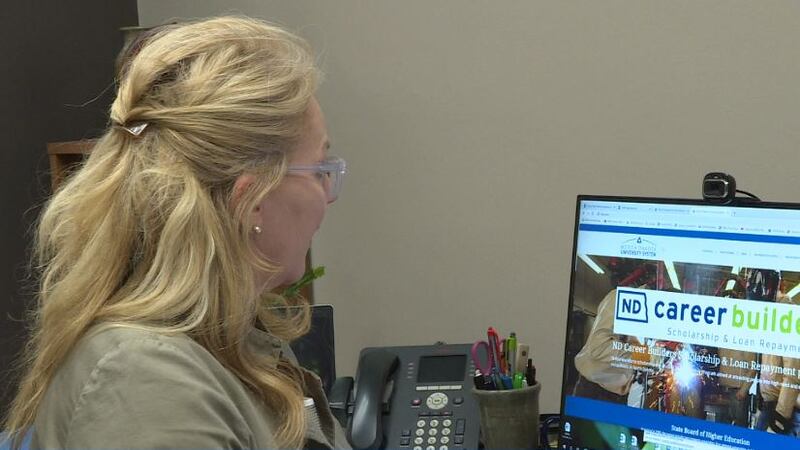 Published: Oct. 21, 2019 at 9:39 AM CDT
Higher Ed students across the nation are faced with the issue of debt after graduation.
ND Career Builders is a new, statewide program created to combat this issue.
Lisa Johnson is just one person, but her work on the new Skilled Workforce Scholarship and Loan Repayment Program is helping match students with business that need specific skills.
"Students could contact a potential employer if they're working in an in demand occupation or interested in that field and maybe reaching out to employers possibly as a means to do the loan repayment or provide that scholarship," says NDUS Vice Chancelor for Academic and Student Affairs Lisa Johnson.
The program consists of $12 million: $6 million from state funds and $6 million matched by private organizations.
In order to qualify for a scholarship, a student must be enrolled in a degree program for an in demand occupation. They must also work in North Dakota in that field for three years.
For loan repayment, a graduate must have worked in an in demand occupation for at least one year.
"This is just really a way to encourage individuals to pursue those programs. Keep in mind these programs are all two years in length-- two years in length or less," Johnson says.
This program is intended to bolster the skilled workers in the state.
The North Dakota University System collaborated with the Workforce Development Council by using labor market information to establish 75 in demand occupations matched by almost 200 degree programs.
You can find the entire in demand list and more information on the program by visiting the NDUS website at www.ndus.edu and clicking the "ND Career Builders" link.