Mobile home donated to disabled veteran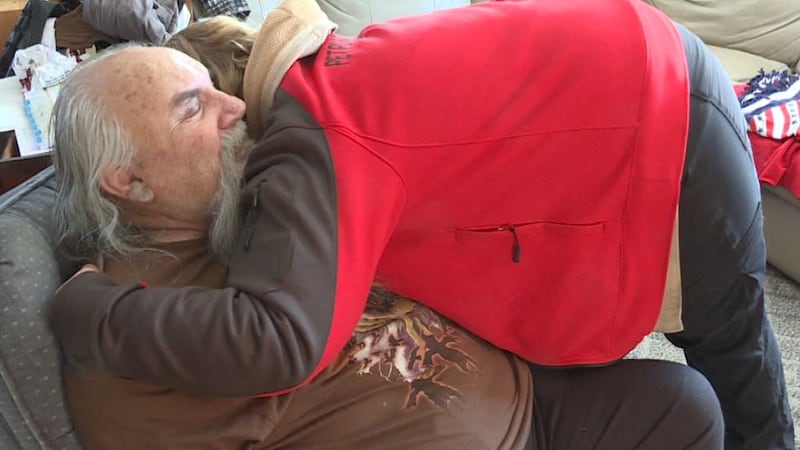 Published: Nov. 11, 2019 at 5:49 PM CST
When life gets tough, it's easy to continue to feel negative or simply give up. A disabled veteran living in Lincoln, N.D., understood that all to well, until his life was flipped.
Larry McCorkell says he had a difficult life, especially after serving our country, and had run ins with law. Then he got pulled over by an officer in Lincoln.
He told her to just write up the ticket and get it over with. But, when the officer asked him what was going on, Larry told her his home was falling apart and felt overwhelmed, so she contacted others in the community to see who could help.
What started as a leaky roof, became much more for Larry McCorkell and his wife Susan.
"It was to the point where every time I came home, I was so depressed. That it was so hard to even figure out where to start," said Susan Emery.
Being a disabled veteran, made it difficult for him to get help. They've lived in the same mobile home for 10 years and even stayed in when it was falling apart, for a month and a half.
"As I'm getting older, I'm falling apart, my replacement parts are falling apart," said Larry McCorkell.
Officer Robin Krile got a hold of Miranda Seim, who's husband is also a police officer in Lincoln. Miranda got help from her church and local businesses.
"Found a trailer that I thought I could raise enough money to afford and as soon as I called and told those people what was going on, they donated the trailer," said Miranda Seim, volunteer for PLC Coffee in Lincoln.
"I think she's the positive that we've needed for a long time," said Emery.
And two months later, Larry and Susan found themselves on the same lot, in a new home.
"All of these people started showing up to help and they took laundry home and washed it, and they did my dishes, I'm so overwhelmed I don't even know what to say," said Emery.
"I've never been treated like this before, and people figured I was what I was, and you're just the bad guy and you're always going to be," said McCorkell.
Larry and Susan say this was a blessing, because life has been difficult for them since he left the service.
"If this would have happened to me years ago, the outlook on life that I had, would have probably changed," said McCorkell.
And this, is a new beginning.
Miranda Seim says it's important to check on people. Check on your veterans, elderly people in your community, and your neighbors in general because you never know who might be in need of help, but afraid to ask.