Medical marijuana group delivers signatures to get measure on the November ballot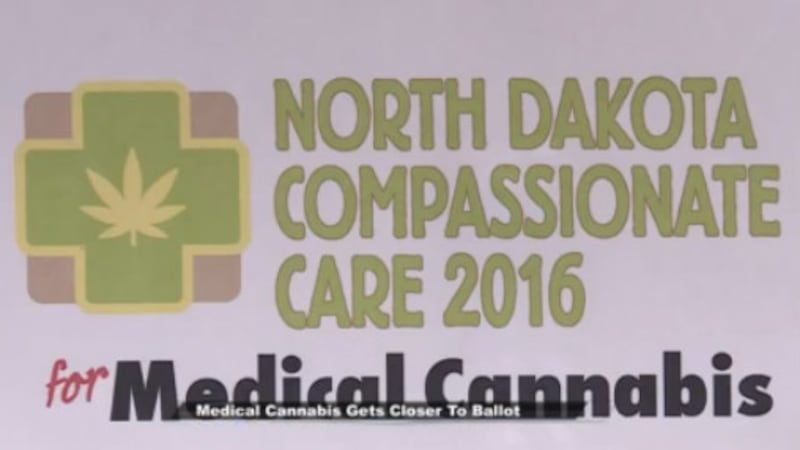 Published: Jul. 11, 2016 at 5:04 PM CDT
Medical marijuana in some form is legal in more than half of the country, but not in North Dakota.
That could be changing.
For many, prescription drugs on the market for many illnesses either don't work or the side effects outweigh the benefits.
That's why the Compassionate Care Act Committee is pushing for medical cannabis as an alternative.​
The signatures on petitions may legally deliver Marcus Schumacher the relief he's been seeking his whole life. He's struggled with Cystic Fibrosis since childhood.
"Cannabis is an amazing miracle," says Schumacher.
Schumacher says since his friends got him some marijuana from Washington and Colorado, he's been able to beat depression and exercise.
Today, he and others submitted more than 17,000 signatures to the secretary of state's office to put medical marijuana on the November ballot.
"To see so many people rally around cannabis, whether for personal reasons or someone they know, whatever reason they want, it's amazing to see," says Schumacher.
Cystic Fibrosis isn't the only disease cannabis can help control according to supports of the ballot measure.
"It's not a fairy tale. It's fact. This is something we want to bring to the people of North Dakota, and I think our citizens deserve to have that chance," says Mary Rennich, mother of man with epilepsy.
The act would allow patients suffering from diseases like cancer, epilepsy and hepatitis C to get identification cards. They'd be able to use those cards at dispensaries which would be monitored by the Department of Health, in order to pick up up to three ounces of medical marijuana.
A similar measure died in the state house during the 2015 legislative session.
"If they were to walk a mile in somebody else's moccasins, they might take a different view of this. They really need to take a hard look at those attitudes," says Ray Morgan, Compassionate Care Act Committee chairman.
Morgan says all the signatures were collected by unpaid volunteers, but he does plan to raise money to help support public education on the issue between now and election day.​
Secretary of State Al Jaeger has just more than a month to count and approve the signatures before he can approve the measure.
For more information on the act, you can go to ndcca2016.com.