A Bismarck animal shelter helps stray cats escape the cold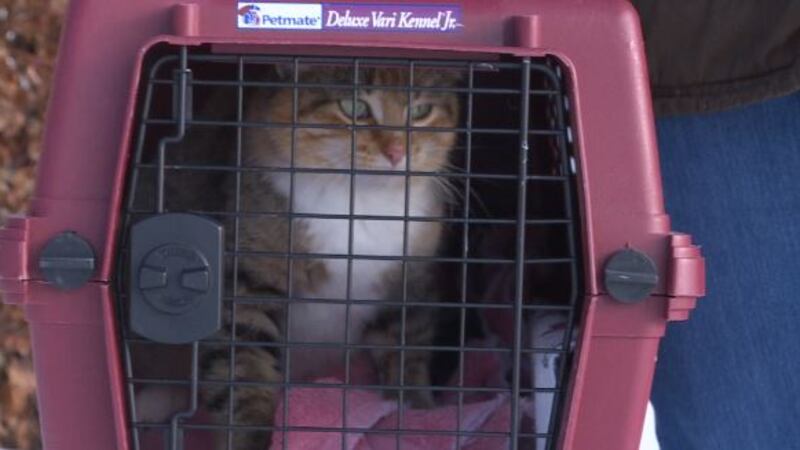 Published: Dec. 17, 2019 at 7:23 AM CST
Rescue shelters are seeing more animals abandoned in the winter.
Alison Smith, the founder of Kitty City animal rescue in Bismarck, got a call about a cat left in the snow outside a of a home just a few days ago.
Meet Mary.
Warm and toasty now. A few days ago, it was an entirely different story.
"I walked around my arbor and found it laying on the ground kind of giving that last 'please help me,' sound," says the Bismarck Resident who found Mary.
A house cat was dumped on the doorstep of an unknowing Bismarck resident, and was lucky Smith came to get her.
"We named her Mary because it's Christmas time and she was just going to lay underneath this thing that kind of looked like a manger. And it turns out that she also is pregnant," says found of Kitty City Alison Smith.
Many cats who are left outside don't get as lucky as Mary. Like Cookie
who lost some of his toes and parts of his ears because he was left out in the cold.
"They're just out of place outside. They're freezing out there. They're in the snowbanks just freezing," SaysKitty City Volunteer Nancy Cerkoney.
Cerkoney says Kitty City takes in hundreds of abandoned cats every year and over half come in during the winter.
Smith says house cats aren't prepared to survive in the elements.
"People think well it's a cat, I'll put it outside. It will be fine. It'll go catch a bird or a mouse. It would be like you going outside without your coat. I mean, if you're not slowly acclimated to this kind of weather, these cats can't make it," Smith says.
Kitty City volunteers say making cat shelters is one way to help.
All you need is a styrofoam cooler with a hole to get in, straw for padding, and a tote or bin to keep it dry.
"We find cats in them all the time. That's how I find cats in my neighborhood. I saw paw prints. There's a cat in my shelter," Cerkoney says.
Smith urges anyone who finds a cat outside in the winter to call animal control.
Mary the Cat will remain at Kitty City where volunteers will take care of her until she gives birth.