Juke Joint Comics closing in Bismarck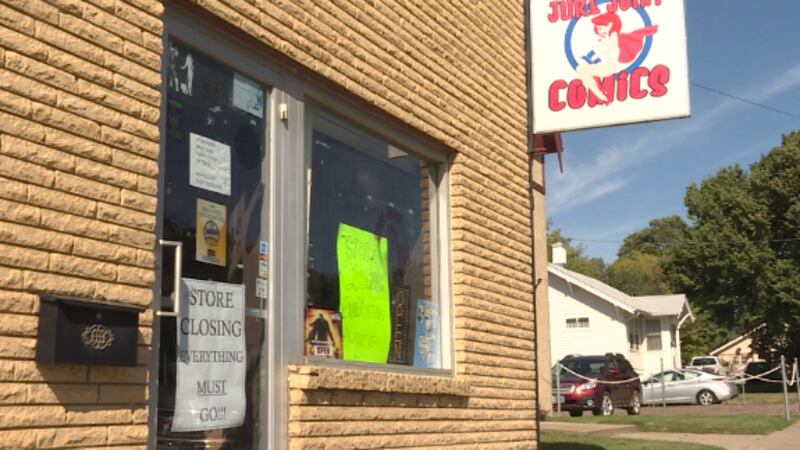 Published: Sep. 21, 2017 at 7:06 PM CDT
The comic book industry has been struggling. Stores are closing all around the country.
Juke Joint Comics in Bismarck is one of the business shutting down.
Juke Joint Comics has been open for four years, and the owner says it's time to say goodbye.
This year the comic book store became a victim of an over-saturated market and too little growth, so Mike Swenson decided it was time to close.
"Unfortunately rent goes up, bills go up. Our products is a fixed price product, and there's nothing we can do about that," said owner Mike Swenson.
The store plans to close Oct. 28, but they aren't officially shutting the doors yet.
Juke Joint plans to stay open a few days throughout the week to sell close out items
The business is focusing on liquidating their stock, and selling everything at bargin basement prices.
"It's too much stuff. With books and we still have plenty in back and I still have plenty at home. It's just a matter of getting through it all and just figuring out where it's going to go. Ideally, not back in the garage," said Swenson.
Although his customers are sad and shocked to see the comic book store go, Swenson is glad Comic Realms is here to keep the hobby current.
"Thankfully we do have another shop in town that's going to be taking over the new products. I'm pretty happy about that, just myself as a reader. We don't just want to give up on the customers," says Swenson.
Swenson hopes to make the transition of closing his doors easy for his customers, referring them to Comic Realms on Mandan Street in Bismarck.
Juke Joint Comics is located on Third Street in Bismarck.
To stay updated on the comic book store, check out their Facebook page.