Gov. Dalrymple calls on ND National Guard to assist with Dakota Access Pipeline protest security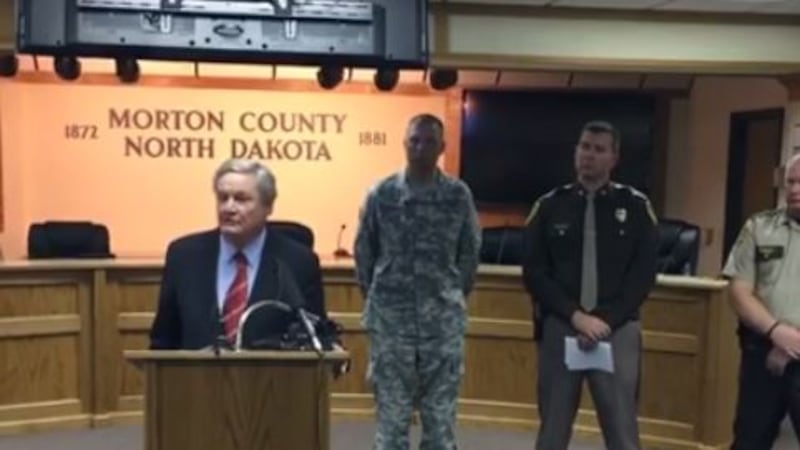 Published: Sep. 8, 2016 at 12:42 PM CDT
Governor Dalrymple is calling on the National Guard to assist with the Dakota Access Pipeline protests but in a very limited role.
He says a small contingent of soldiers will help law enforcement - beginning Friday - with the ongoing Dakota Access Pipeline protests, freeing up Morton County deputies and Highway Patrol troopers for other duties
A small number of guardsmen - around a dozen at a time - will man what used to be the traffic stop on Highway 1806. That stop will now be reopened and traffic can resume. With the anticipated injunction ruling Friday, law enforcement officials are happy to take all the help they can get.
Law enforcement officials will have reinforcements ahead of Friday's anticipated Dakota Access Pipeline court ruling.
"I have asked Gen. Dohrmann to make available some North Dakota National Guard personnel to support law enforcement and augment their public saftey efforts," Gov. Jack Dalrymple.
The National Guard will be involved only in an administrative capacity, helping to man what was the traffic stop on highway 1806. Traffic will now be open in all directions.
Morton County Sheriff Kyle Kirchmeier says he hopes there are no outburst of violence Friday, but having the guard on hand will help law enforcement be prepared for all situations.
"What we're concerned about is if certain individuals want to take this further than a peaceful protest. So we have to be prepared to respond to those situations. So we want to make sure we have man power and resources available," Morton County Sheriff Kyle Kirchmeier.
And while the Governor still has the option to call more guardsmen in if the situation changes, the plan now is to keep them away from protesters.
"Right now, our mission is, and is this situation it's the right approach, is to have guardsmen in support of law enforcement and let law enforcement deal with those that violate the law," Maj. Gen. Alan Dohrmann, ND National Guard.
There will be a heavier law enforcement presence in Bismarck and near Cannonball tomorrow as police from around the state will be on hand when the court decision comes down.
Gov. Jack Dalrymple announced Thursday that the Morton County Sheriff's Department will receive help from the North Dakota National Guard as well as sheriff's officers throughout the state to help deal with the ongoing protest of the Dakota Access Pipeline.
Maj. Gen. Alan Dohrmann says this is not a full mobilization.
He says the National Guard personnel will serve in administrative, assistant role, deferring to the sheriff's department. He also says guardsmen will be stationed at traffic check points and will likely be armed the same as highway patrol.
National guardsmen are coming from Bismarck, Mayville and Fargo. They have law enforcement background but are not peace officers.
Morton County Sheriff Kyle Kirchmeir says his office has received reports of people intimidating residents in a variety of ways including playing "chicken" with drivers on County roads which has lead to increased patrols.
Standing Rock Chairman David Archambault II also released the following statement Thursday calling for peace in anticipation of the Sept. 9 court ruling:
Thousands of people, from members of the Standing Rock Sioux Tribe, tribes across the nation and First Nations in Canada, to non-Native supporters in the United States and around the world, have stood in solidarity against the harm and destruction caused by the Dakota Access Pipeline. We have stood side by side in peaceful prayer. The pipeline threatens our sacred lands and the health of 17 million people who rely upon the Missouri River for water. There is a lot at stake with the court decision tomorrow. We call upon all water protectors to greet any decision with peace and order. Even if the outcome of the court's ruling is not in our favor, we will continue to explore every lawful option and fight against the construction of the pipeline. Any act of violence hurts our cause and is not welcome here. We invite all supporters to join us in prayer that, ultimately, the right decision—the moral decision—is made to protect our people, our sacred places, our land and our resources.
The ruling will decide whether construction can continue on the Dakota Access Pipeline.