DAPL bills would remove liability from unintentionally hitting people obstructing traffic, wearing masks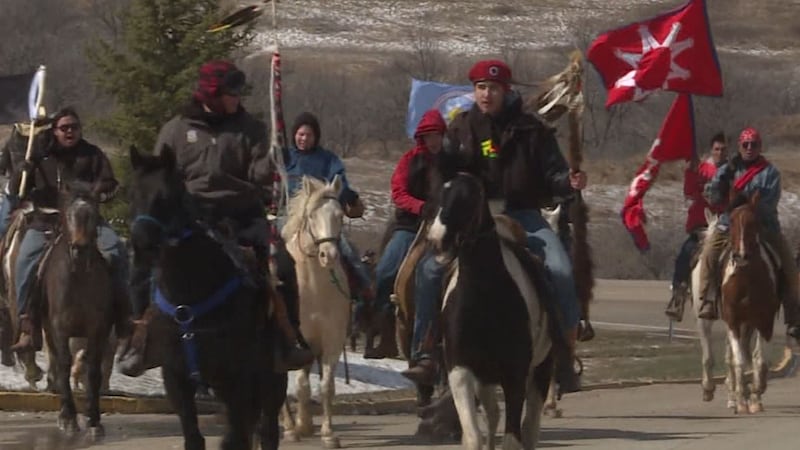 Published: Jan. 16, 2017 at 4:17 PM CST
The Dakota Access Pipeline situation has caused not only conversations, but frustrations as well. Now, state lawmakers are proposing legislation they say would help citizens and law enforcement deal with events like this in the future.
Two bills directly related to the DAPL protests involve liability on the roads and identifying protesters.
Rep. Keith Kempenich, R-Bowman, has introduced a bill that says:
A driver of a motor vehicle who unintentionally causes injury or death to an individual obstructing vehicular traffic on a public road, street, or highway is not guilty of an offense."
Kempenich says his in-laws, and others, have been terrorized by Dakota Access Pipeline protesters blocking roadways. He says he doesn't want motorists held responsible if an accident should occur during unlawful protests.
Kempenich says this does not protect anyone who intentionally hits someone.
"The first amendment, it allows for peaceful assembly, but it also allows for people to ignore it too. I think that's where it started to get more aggressive, and that's where this bill came from," says Kempenich.
Another Republican lawmaker wants to make it easier for police to identify who's protesting. A bill introduced by House Majority Leader Al Carlson would make wearing a mask or hood to hide your identity illegal.
Exceptions to this bill include to battle the elements, to march in parades, to celebrate parades, to practice your religion and more.
Carlson says this bill stems from protesters wearing masks to hide their identities during Dakota Access Pipeline protests over the summer.
"Is it a fine line on free speech? I don't think so. Not when the intentions are wrong and not when the demonstrations have gone south," says Carlson, R-Fargo.
"I will be interested to hear how they are going to justify the need to introduce something like that. In the meantime, I'm going to stay focused on what the people of District 35 asked me to come here and stay focused on," says Erin Oban, D-Bismarck.