Civil rights activist, 'Avenger' join Dakota Access Pipeline protest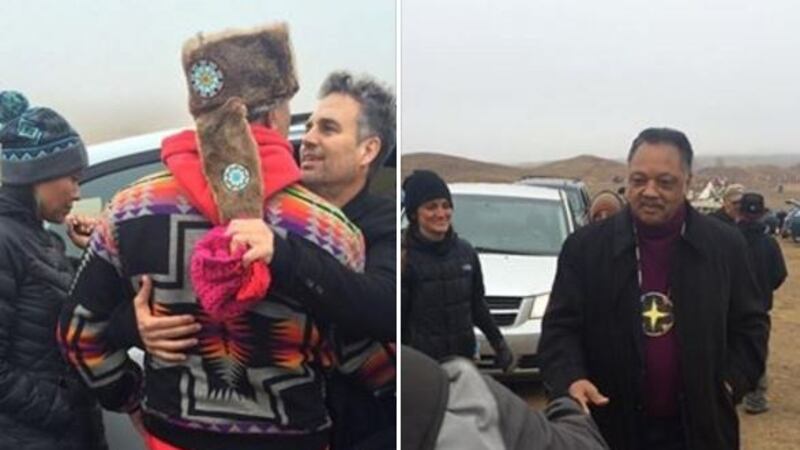 Published: Oct. 26, 2016 at 3:39 PM CDT
As protesters prepare for a clash with police along the construction route, they're getting some famous help.
The demonstrators often like to say that the world is watching.
Two people who are used to having the world's attention, albeit for very different reasons, joined the protest in hopes of shining more light on the issue.
Civil rights activist Reverend Jesse Jackson joined protesters at the main camp in the morning, where he drew comparisons between the pipeline and Flint, Michigan.
"The irony is they sent Native Americans out on these reservations to perish, only to find that there was great wealth beneath the soil," said Jackson.
Jackson then rode to the front lines, where police have told protesters to remove their roadblock and go back to the main camp, or be arrested.
"There's no fear here. We know we have the moral high ground and that we're doing what's right, not only for the human race, but for the rights of nature," said Mekasi Camp Horinek, demonstrator.
So demonstrators brought in an Avenger. Mark Ruffalo, the Incredible Hulk, joined the front lines as well.
"Put yourself in that place. These are all human beings just like everyone out there watching and their livelihood, their families, their sacred places, their cemeteries are all being attacked," said Ruffalo.
"Native Americans have been victims of protracted genocide and broken treaties and dishonored commitments. We must measure our character by how we treat Native Americans," said Jackson.
Ruffalo's support goes beyond spreading awareness. He donated a pair of Navajo-made solar trailers to help power the camps as well.
Jackson promised that once the campaign ended, he'd be back at the camp with more people ready to continue the fight.​