Burleigh County commissioners vote no on turbines in Morton Township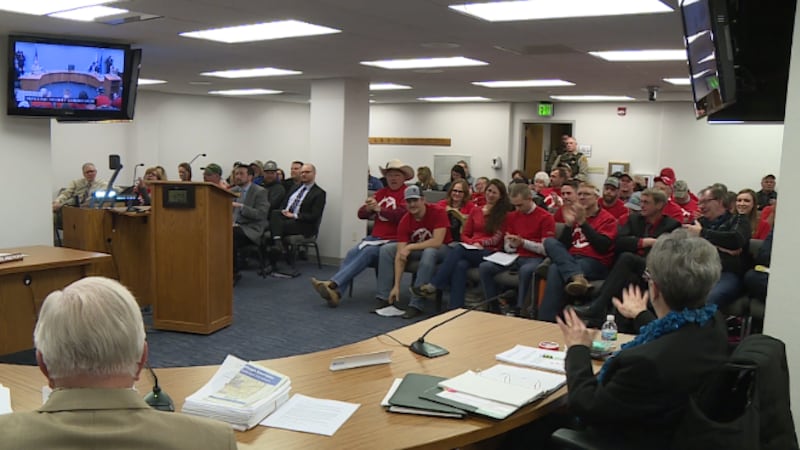 Published: Jan. 8, 2019 at 11:49 AM CST
A controversial wind farm project in Morton Township in southern Burleigh County has been denied. County commissioners voted tonight to reject the 30 applications for turbines in the municipality.
Nearly a month after a public hearing on the issue, Burleigh County commissioners made the decision to turn down the special permit applications for wind turbines in Morton Township, and the decision was met with enthusiasm from the crowd.
"Wind is okay but this was a bad place it would be bad to ruin the beauty of the capital city," Burleigh County resident Jerry Doan said.
According to Building Official Ray Ziegler, 18 of the towers were in violation of the county's ordinance for being too high, for standing at 567 feet. The official report from the planning and zoning commission cited that the plans could hinder future development of the airport, be unsafe for pilots and could affect land owner's rights.
Pure New Energy officials were on hand to refute the claims, but it wasn't enough.
"It's a very dark day for property rights in North Dakota and essentially what this decision said is as long as enough of your neighbors get together they can dictate what you can and can't do on your property," Pure New Energy Director of Business Development Courtney Timmons said.
Burleigh County State's Attorney Julie Lawyer said she believes the report was insufficient and there were too many inconsistencies for the board to make a decision.
"It's very unfortunate that the county commission took a stand today that contradicted the advice of the state's attorney and I think they have left themselves open to legal action," Timmons said.
Timmons says the company will look at all options before deciding what its next steps are. But residents are glad they won this battle.
"The vast majority of the citizens out there and the residents are saying no and not let these out of state Minneapolis and Chicago lawyers come in and run all over us in Burleigh County so we're proud of them," Doan said.
The vote was 4 to 1 in favor of denying, with commissioner Brian Bittner the only no vote.
Timmons says they will continue developing the other parts of the project in areas outside of Morton Township in Burleigh and Emmons counties.
Doan says those against will continue fighting the issue in those areas.