Bismarck women concerned about unsolicited sexually explicit messages being sent over social media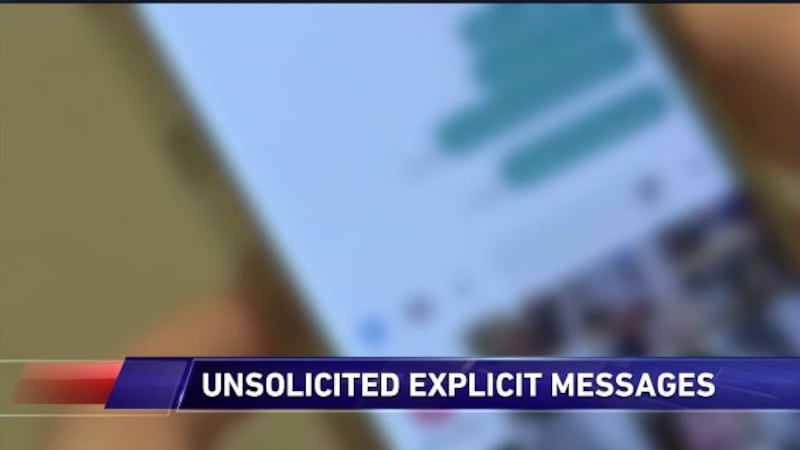 Published: Feb. 20, 2020 at 9:15 PM CST
When we're constantly connected through social media, messages and photographs can instantly be sent to anyone, anywhere.
Mya Miller is one of many victims in Bismarck and Mandan who claim she received unsolicited sexually explicit messages.
Others followed her lead, posting their conversations to Facebook to spread awareness.
But, Bismarck police say without anyone filing a report there's not much that can be done.
Most of the messages sent to Mya via Facebook, are too graphic to show on-air.
"He actually asked me if he could send me a picture, and I said no. And that's when I got the paragraphs and about eight to nine photos," said Mya Miller.
She immediately took screenshots of the messages and took to social media to spread awareness of the man she says is a predator.
"I posted it on my Snapchat, and I've had people come forward to me, and tell me that they've had instances with him in the past with him, messages pictures to their younger sister who was only 14 at the time," said Miller.
Shortly after, word had spread that the man was found guilty of four counts of promoting obscenity to a minor and luring minors by computer.
He is also a lifetime registered sex offender.
"The image that you get from this guy from the messages is pretty intense, so I could only imagine the type of person he is out on the street, if this is what he is online," said Miller.
But, police say nothing can be done until someone files a report.
"By the time we get it passed to us on the Internet we're not sure where it originated, or who posted it or who the actual victim is. We don't know if the person who posted it if it was from their phone or if it was screenshots from someone else's. So really the person that received the unwanted messages or had the experience happen to the needs to report it," said Lynn Wanner, the Bismarck Police Department.
Bismarck Police say they can't create a report by taking photographs from social media without a victim.
"Crimes need to have a victim, so if someone isn't offended by it or didn't mind it, people get unsolicited pictures all the time that don't report it. So, we couldn't just pull a bunch of photos that people have been sent and decide that they're the victim. They have to come in and actually talk to us," says Wanner.
Which is why they suggest filing a report anytime someone receives unwanted messages or photographs.
As of this Thursday morning, Bismarck police say they have not had any police reports filed by women who have received messages from the man Mya is referencing.
They have however gotten ahold of the screen-shots and are being looked at by their sex offender investigator.