UPDATE: Hwy 2 reopens after wedged tank removed, 16th Street SW reduced to one lane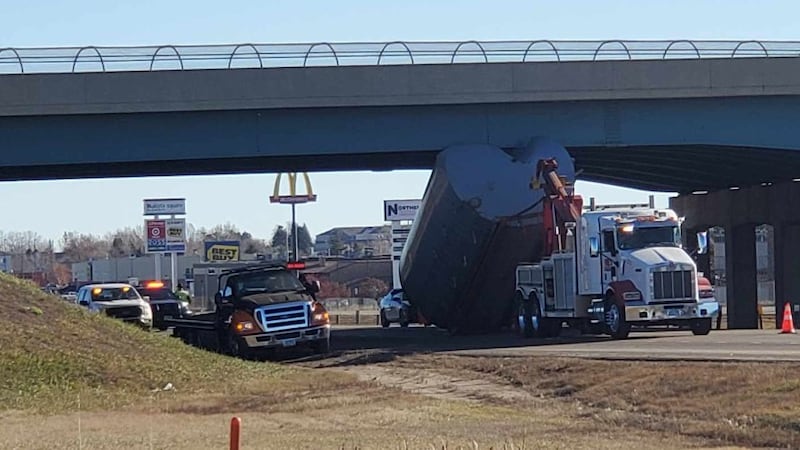 Published: Nov. 18, 2023 at 12:32 PM CST
MINOT, N.D. (KMOT) - UPDATE (11/18/2023 at 7:15 p.m.): Highway 2 under the 16th Street SW overpass has reopened to full traffic, according to the highway patrol.
The patrol says the driver carrying the oversized load was headed westbound and struck the I-beams underneath.
The patrol added that the load that became wedged under the bridge was not permitted correctly with true heights.
The patrol says the city of Minot made the decision to cut southbound traffic on 16th to one lane.
A spokesperson for the city says one southbound lane was closed as a standard precaution until NDDOT can have an inspector take a look at the bridge.
ORIGINAL STORY (11/18/2023 at 12:35 p.m.): Crews were busy Saturday morning working to remove an industrial tank that had become lodged underneath the 16th Street SW overpass in Minot, in the westbound lane of Highway 2.
The North Dakota Highway Patrol says the oversized load is blocking the outside lane of travel and the end of the acceleration lane.
Westbound traffic is still able to make it through but may be stopped occasionally while crews work to dislodge the tank from the bridge.
Cleanup is expected to continue into the afternoon. Motorists should seek an alternate route or use caution.
The overpass has a 16-feet height restriction. Traffic on 16th Street was not impacted.
The patrol says no one was hurt. The crash remains under investigation.
Copyright 2023 KFYR. All rights reserved.