NDSU faculty protest as reorganization continues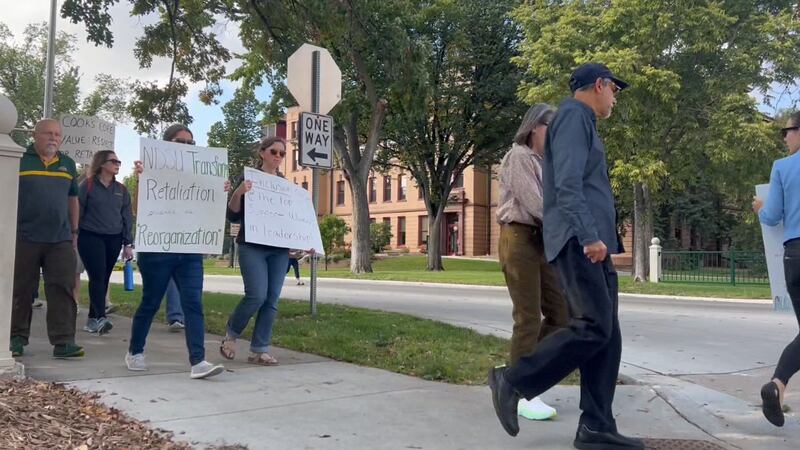 Published: Sep. 22, 2023 at 5:25 PM CDT
|
Updated: Sep. 26, 2023 at 6:38 PM CDT
FARGO, N.D. (Valley News Live) - Department realignment continues at North Dakota State University as the university works to address budget cuts.
The latest announcement is a reorganization of the Provost's Office, which focuses on enrollment, the student experience, quality teaching, research, and DIR.
The current position of Vice Provost for Faculty Affairs & Equity will be discontinued, according to a campus-wide email from Provost David Bertolini. The position was held by Dr. Canan Bilen-Green. She oversaw the areas of disability services, equal opportunity and Title XI compliance, faculty affairs, faculty and scholar immigration, multicultural programs, ADVANCE and Commission on the Status of Women Faculty.
"We thank Dr. Canan Bilen-Green for her service in this position as she returns to being a faculty member in the College of Engineering," Bertolini said.
Some faculty members have planned a protest for 3:30 p.m. on Tuesday, September 26, objecting to Bilen-Green's position being discontinued. An organizer of the protest, who is a professor at NDSU, said several faculty met with President David Cook and Provost Bertolini on Friday, September 22. She says the discussion was positive and was aimed at working together to develop long-term solutions to faculty concerns. She added that the protest will go on as planned, and Cook and Bertolini were both supportive of faculty finding healthy ways to express dissatisfaction.
Protest organizer and NDSU faculty member, Erin Gillam explains, "In reality, it's not so much about that she was dismissed from her administrative position it was the way it was done, which was very disrespectful of the more than a decade of work that she has done on this campus."
This position will be converted into a Vice Provost for Faculty Affairs, Retention, and Teaching. Bertolini says the internal search for the position will begin immediately. This person will manage the current operations associated with faculty affairs: immigration, faculty hiring, PTE, and implementing recommendations from the President's Council on Retention. The position will also be responsible for improving faculty teaching development and fostering research. We will be immediately starting an internal search for this position.
Enrollment Management will be separated from Student Affairs and Enrollment Management and renamed Strategic Enrollment Management. The new entity will report directly to the Provost. The Office of Admission and the Office of Financial Aid and Scholarships will report to this position. Seinquis Leinen will be the new Senior Director of Strategic Enrollment Management.
Student Affairs and Enrollment Management will be renamed Student Affairs and Institutional Equity. This division will continue to oversee its current operations, except admission. In addition, the Equity Office and the Center for Accessibility and Disability Resources will now report to this division. Dr. Laura Oster-Aaland will be NDSU's Title IX Coordinator and ADA Coordinator. Because of the importance and complexity associated with this area of compliance, NDSU will be creating a committee representing key areas, including HR, Athletics, the Chief of Staff, and the Attorney General's Office to support Dr. Oster-Aaland and ensure that she has direct access to critical compliance areas.
There will be a new Senior Director for Access and Opportunity as recommended by the President's Council on DIR. The Office of Multicultural Programs and the Excellence Program Manager will report to this new position. Additionally, this person will be responsible for connections that "explicitly value the diversity that is reflected in the many sources of social groups such as socio‐economic status, veteran status, gender, religion, first-generation student status, sexual orientation, disability, race/ethnicity, nationality, age, citizenship, etc" (PCDIR Report). And support such programming as the Bison Bridge Program, LGBTQ+ Resources, and Liaison with Student groups. NDSU says they will be starting a search for this position soon.
Copyright 2023 KVLY. All rights reserved.