Chad Berger Bucking Bulls: one of the most well-known stock contractors and bull breeders
Published: Sep. 20, 2023 at 7:20 PM CDT
MANDAN, N.D. (KFYR) - Rodeo is a way of life for many Americans, and behind the scenes are the ranchers raising bulls.
Just south of Mandan off Highway 6, Chad Berger and his family have built a legacy of raising bucking bulls.
Here on the ranch, Chad Berger works with his wife, Sarah, and the rest of his family to manage over 200 bulls.
Working with bulls and rodeoing is something he's always done, but he was able to make his passion his life's work.
"It was just in my blood. I was born and raised in it. And something I missed after I quit riding bulls and when PBR came along, and I saw an opportunity where you could actually make some money with bucking bulls," said Berger.
The championship bulls live and die on Berger's ranch and are buried in the tree rows on land he's deeply connected to.
"You know, everywhere I go I let people know where I'm from. I'm a fifth-generation Berger. I was born and raised in the St. Anthony-Mandan area and never left. And I always tell everybody I was born here and I'm gonna die here and it makes me proud," said Berger.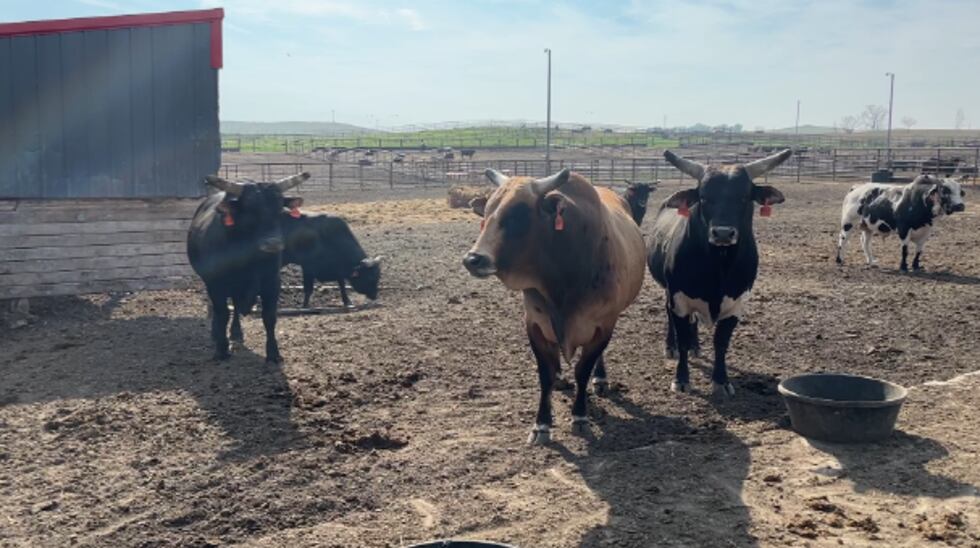 He's also proud of the way he raises and breeds his bulls.
"Well, these animals are taken better care of than anybody's dog, I can promise you," said Berger.
The bulls are fed a high-protein diet and they winter down in Oklahoma.
"And they love their job. These bulls, when we open a trailer gate, they go running in and they want to go to the big show," said Berger.
Berger started his company in 2003, and he put in years of work to build it up.
"I didn't start out winning titles. When I first started going, I went in a little 30-foot trailer with a handful of bulls. And we just progressed and got better and a lot of people invested in us, seeing that we were doing things right," said Berger.
Even with the success he's had, he knows there is still work to do.
"We just try to keep getting better at what we do. There's no rest if you want to stay at the top, you have to keep grinding every day," said Berger.
It's part of the family legacy. His dad was a bull breeder and stock contractor too. Berger says he will keep doing what he's doing for a long time, and he hopes his family will continue it in the future.
Over his career, he's won the PBR Stock Contractor of the Year title multiple times, and raised some of the greatest bulls ever, like "Little Yellow Jacket."
Berger was inducted into the North Dakota Cowboy Hall of Fame in 2018, and Little Yellow Jacket was inducted in 2006.
Copyright 2023 KFYR. All rights reserved.