"I just want to say thank you": July 14th shooting victim presented with donations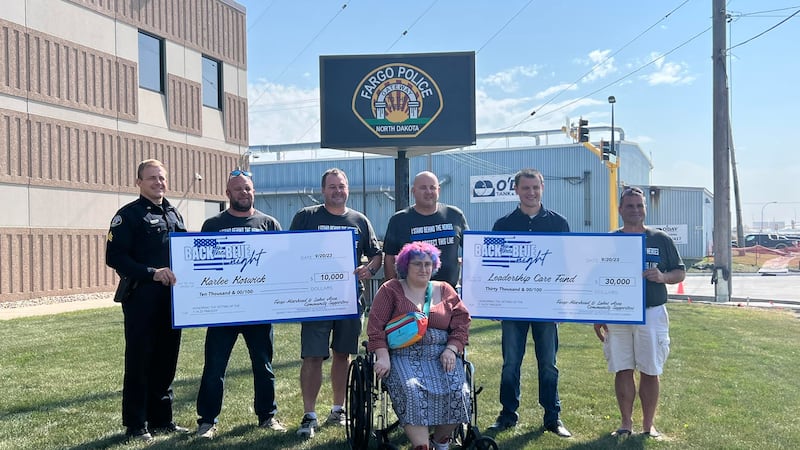 Published: Sep. 20, 2023 at 4:45 PM CDT
FARGO, N.D. (Valley News Live) - On Wednesday afternoon, Karlee Koswick, the citizen that was shot in the deadly July 14th shooting, was presented with monetary donations from the organizers of the Back the Blue night.
The organizers were Keith Gummeringer of Midwest Tree & Maintenance in Pelican Rapids, Kelly Visto of Big Erv's in Horace, and Skooter Thompson of Skooter's Plumbing in West Fargo.
The event raised money through door donations, T-shirt sales and generous donations from local businesses and residents.
On Wednesday, the three men presented a check of $10,000 in donations to Koswick, accompanied by the Leadership Care Fund who brought in $30,000.
Koswick has had two surgeries so far, one emergency surgery on the night of the shooting to help straighten her legs out, and the second was to put metal in her hip due to the bone being shattered in the shooting.
"Recovery mentally is a tough road, but physically it's coming along," Koswick said. "I haven't really gotten the clear to walk a lot yet, but I'm hoping to not need another surgery. I'm gonna find out about that soon."
Koswick said she was blown away by the donations and she's grateful for how they'll help moving forward.
"It's definitely going to help, especially [because] I haven't been able to work being in a wheelchair... So just getting help staying in Fargo basically."
SKooter Thomspon of Skooter's Plumbing said that he was thrilled to be able to present the donations to Koswick and to see how it's going to help her moving forward.
"It feels awesome. I just met Karlee about 10 minutes ago and seeing the condition she's in still and her recovery... This is going to help her a lot," Thompson said. "This shows that Fargo-Moorhead is a strong community and people are willing to help each other out."
Koswick said that the Fargo-Moorhead area has been extremely helpful through these trying times, and she's thankful for their support.
"I just wanna say thank you," Koswick said. " Thank you for supporting everyone who's been involved in the incident. I'm really grateful that it wasn't worse than it was... And I'm getting through it. I'm getting through it with a lot of help, from friends, family, and total strangers."
The organizers will be opening an online shop, for two weeks, through LongWeekend Sportswear out of Perham, MN for sales of the Back The Blue T-shirts. All additional proceeds will go to the Leadership Care Fund.
Copyright 2023 KVLY. All rights reserved.