Report: Colin Kaepernick's agent contacts Jets about NFL comeback after Aaron Rodgers injury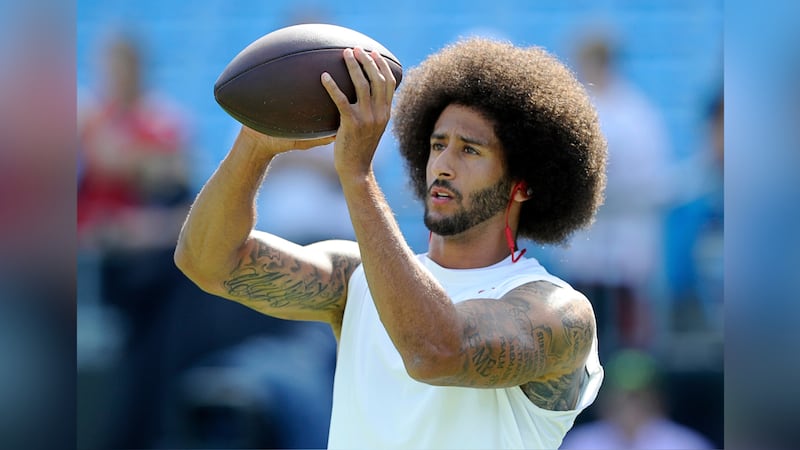 Published: Sep. 12, 2023 at 8:13 PM CDT
(Gray News) - An NFL insider says Colin Kaepernick's agent has contacted the New York Jets about returning to the league.
NFL insider Jordan Schultz said he spoke to Kaepernick on Tuesday who told him that his agent has reached out to the Jets about his desire to make a return to the NFL.
"I just spoke with Colin Kaepernick, who tells me his agent has reached out to the Jets about his desire to make an NFL return," Schultz shared online. "Kaepernick remains on the West Coast working out.
This comes a day after Jets quarterback Aaron Rodgers suffered an Achilles tendon tear just four plays into his debut with the team Monday against the Buffalo Bills.
Rodgers is expected to miss the rest of the season, leaving the Jets with room at the quarterback position.
Backup quarterback Zach Wilson led the team to a victory Monday night after replacing Rodgers.
Jets head coach Robert Saleh said Wilson will be the team's starter moving forward, but he is currently the team's only available quarterback on its depth chart.
Kaepernick played in the NFL for six seasons from 2011 to 2016 for the San Francisco 49ers. He led the team to a Super Bowl appearance during his time but also drew criticism for taking a knee during the national anthem to protest racial injustice.
Kaepernick filed a collusion grievance against the league in 2017, saying he was blacklisted because of the protests during the anthem at games. He reached a settlement in 2019.
Copyright 2023 Gray Media Group, Inc. All rights reserved.