UPDATE: Burgum announces "I'm in" for Wednesday's Republican Presidential Debate after injury
Published: Aug. 23, 2023 at 8:31 AM CDT
|
Updated: Aug. 23, 2023 at 11:32 AM CDT
MILWAUKEE, Wis. (KFYR/KMOT) - UPDATE (8/23/2023 at 4:21 p.m.): Gov. Doug Burgum, R-ND, will take part in Wednesday night's Republican Presidential Debate in Milwaukee, a high-stakes opportunity for the candidate to make a name for himself before the nation.
The Governor posted on his X/Twitter page shortly after 4 p.m. an image of himself walking in crutches with the caption "I'm in."
Burgum suffered a partially torn Achilles tendon during a pickup basketball game Tuesday night, putting his ability to stand for the two-hour debate in jeopardy.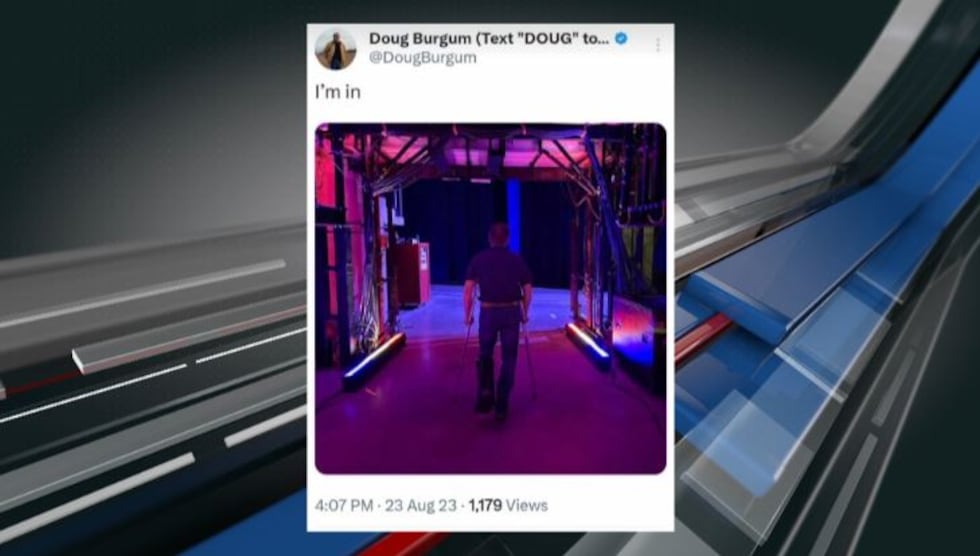 UPDATE (8/23/2023 at 2:24 p.m.): Gov. Doug Burgum, R-ND, suffered a partial tear of his Achilles tendon Tuesday during a pickup basketball game, and is consulting with a doctor Wednesday before making a decision on whether to take part in the debate.
Burgum made an appearance Wednesday in the spin room at the debate location of the Fiserv Forum.
The Governor indicated that he is not taking pain medication for the injury.
UPDATE (8/23/2023 at 11:20 a.m.): According to CNN, North Dakota Gov. Doug Burgum suffered a high-grade tear of his Achilles tendon, requiring him to be on crutches, a source familiar with the situation says.
UPDATE (8/23/2023 at 10:32 a.m.): A spokesperson for Gov. Doug Burgum's campaign said that Burgum was taken to the emergency room Tuesday night for an injury to his leg but was discharged from the ER and is recovering.
Lance Trover with the campaign said the Governor hopes to make the candidate walk-through Wednesday afternoon and will make a decision from there as to his participation in Wednesday night's debate in Milwaukee.
ORIGINAL STORY (8/23/2023 at 8:30 a.m.): Gov. Doug Burgum, R-ND, injured a leg playing basketball ahead of Wednesday's debate, a manager for his campaign confirmed.
Burgum's campaign manager Lance Trover confirmed with Your News Leader that Burgum injured his leg, and it's unclear if he will be able to stand at the debate. Trover indicated they will know more later in the day.
Copyright 2023 KFYR. All rights reserved.