Community members mourning the loss of fallen officer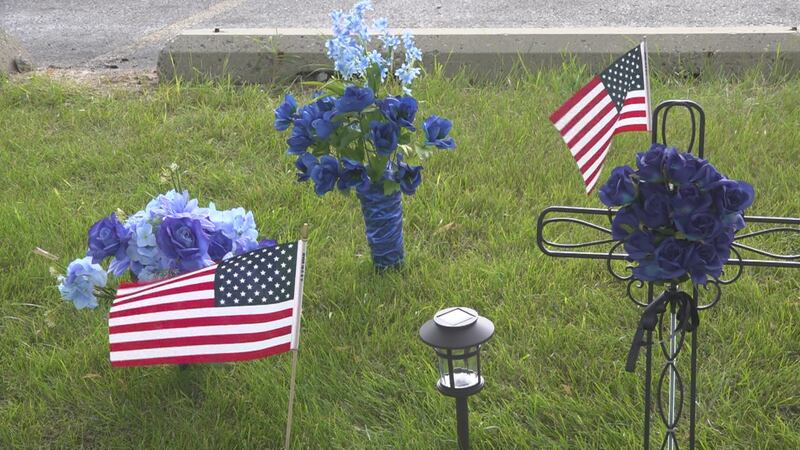 Published: Jul. 16, 2023 at 9:47 PM CDT
FARGO, N.D. (Valley News Live) - Since the announcement of Fargo Police Officer Jake Wallin's death on Saturday afternoon, the community has come together to show their support for the fallen officer in many different ways.
The scene of where he was shot on Friday, now has flowers, balloons, and signs in his memory.
Donna Johnson, a Fargo resident, visited the memorial Saturday to leave flowers.
"I was in a state of shock and very stunned," Johnson said. "This is the way I can show support to our men and blue who do this out of passion and for our safety."
The Fargo EMS Department is also showing their support for the department as their main sign now displays the message #FargoStrong and hearts around Fargo PD, and they had their flags flown at half-staff.
A Texas Roadhouse in the area had a table set in honor of Officer Wallin as well, it was reserved for him and had his photo set up.
The Red River Valley Fair has been taking place for several days now and today they had sign up telling their visitors that all the gate admission proceeds will be donated to the families affected by Friday's violence.
A local company, Superior Customs, is now making decals for sale, and all the proceeds go towards the police department as well.
Mike Spieker, Superior Customs Owner said as a someone who's lived here forever, it just felt right.
"It's just a tough time right now and we just need to show the police department we're behind them and show them our support and show them how much they mean to our community."
Many, Like Rio Mills, are still trying to process how this situation unfolded.
"It definitely was a terrifying situation for everybody involved," Mills said.
The Bluemont Apartments that were evacuated, now have the tenants back home, and doing their best to comprehend.
"It was really weird and random because I just got off work and my mom called me and told me to pack an overnight bag," Kaden Lendy, a tenant, said. "There was a bunch of cops. You know, police, U.S. Marshall's, FBI... and when we came bac, FBI was still here and asked us a few questions, just basic stuff."
No matter where they are in Fargo, or what their connection is, thousands are now grieving for the fallen officer.
"I am so sorry for your loss," Johnson said. "As a parent, my heart breaks for the mom, and as an officer, i can't imagine what kind of trepidation they're going through today at every stop that they make."
Copyright 2023 KVLY. All rights reserved.