"It's kind of typical,": Not the first time for UND diploma mishap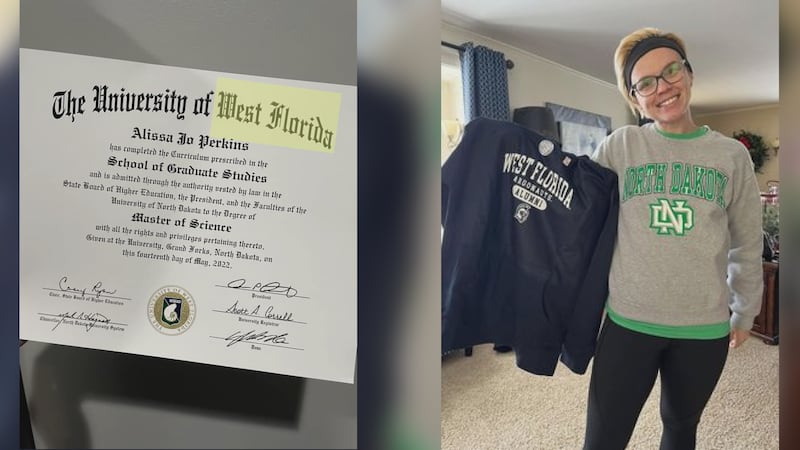 Published: Jul. 5, 2023 at 8:51 PM CDT
GRAND FORKS, N.D. (Valley News Live) - After spending thousands of dollars and several hundred hours, the 2023 graduating class of the University of North Dakota finally received their degrees, but they didn't turn out exactly how they expected, as they had the North Dakota State University seal printed on them.
Mathew McLaughlin, a 2023 Graduate said this is a shame, but he wasn't surprised.
"This whole messed up diploma thing kind of sucks, but kind of typical of UND," McLaughlin said. "We kind of laughed, we were like 'Well, this is a typical UND thing… let's send some emails and see what happens.'"
Around 700 diplomas from the university of North Dakota were mistakenly printed and although the error occurred due to a mix-up at a third-party vendor, recent graduates say they weren't surprised. Mainly because other grads say that this has happened before.
On the Valley News Live Facebook page, Alissa Jo Perkins, said she received her diploma last year, and it stated "University of West Flordia."
Around 1,700 students were eligible to graduate from UND this spring, which means that in some departments, half the recent graduates got the wrong diploma.
"We had a graduating class of six and I think about half of us at least at minimum had the NDSU on top of the degree, the other half I don't think have seen their diplomas yet," McLaughlin said.
The part that is leaving most students puzzled, is how they received different versions in different platforms.
"The funny things is und sent out this digital diploma, we got like 20,000 emails saying 'Get your digital diploma now,' and it says University of North Dakota right across the top, and everything's correct and then you get the one in the mail and it's all jacked up. And you're just like, why?" McLaughlin said.
The school has worked with the students to get the problem fixed, and now they're doing they're best to look on the bright side of an unfortunate situation
"It's kind of funny, isn't it? I mean, it's kind of typical, but nothing much we can do about it now," McLaughlin said.
The school is currently in the works to replace the mismarked diplomas with corrected versions bearing the und seal, and the corrected diplomas are expected to be sent out via mail within the next 24 hours.
Copyright 2023 KVLY. All rights reserved.