"Everything changed on Monday,": Man injured after tire explosion recovering slowly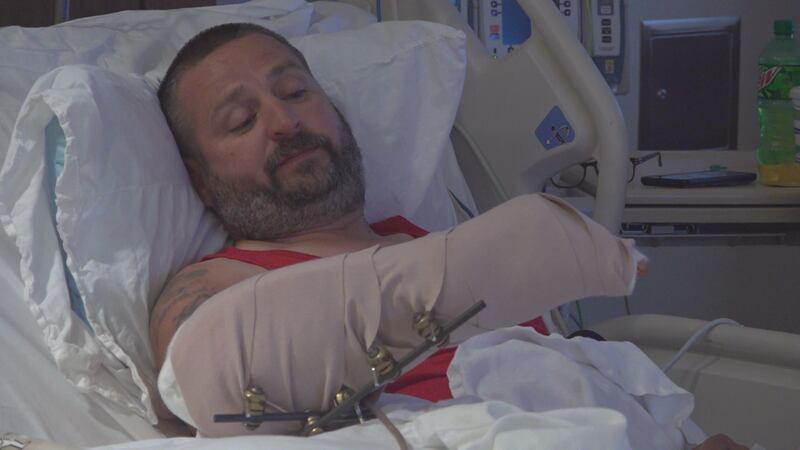 Published: Jun. 29, 2023 at 8:10 PM CDT
FARGO, N.D. (Valley News Live) - On Monday, June 26th, Eric Crabtree's life changed in a way he never expected when a tire exploded.
Which is something he's saying was a freak accident.
"I was trying to get a tire to seal the bead on a rim and it exploded," Eric said. "You hear about it, but we've changed thousands of tires and never had it happen."
While helping his friend at a shop, the tire exploded, which got debris in his eye and tearing up his arm.
His wife, Jamie, was at home when the incident happened and found out from a friend.
"She's like 'Eric got hurt, we called an ambulance, he hurt his arm,' and I was gone," Jamie said. "He's alive. He's got his arm. It's going to be a long road, but he's alive."
Eric's gone through surgeries and has had discussions regarding physical therapy and skin grafts, but the overall message is that he's now facing a long road of recovery.
Local auto shop owner Dennis Johnson said this is a pretty rare instance, but it does happen.
"Any time you're messing or your job is to do tires and auto stuff there's always the risk of injury and you know a freak accident, they do happen and anything could've went wrong," Johnson said.
Eric works with his hands often, pouring concrete and doing other handy work, but now after this injury, he's expecting 8-12 month of recovery, which will be difficult for the family. But they're staying hopeful for the future.
"It's gonna be hard because everything changed on Monday," Jamie said. "Now we look at it day by day and sometimes moment by moment just to tell what's next."
A GoFundMe was created to help the family with the hospital bills and any other costs that may come up.
Copyright 2023 KVLY. All rights reserved.