Missing dog found after it runs away on Dilworth couple's wedding day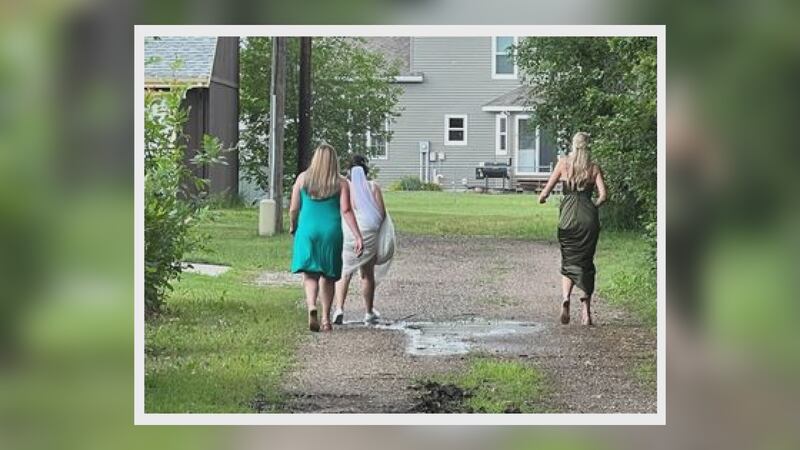 Published: Jun. 28, 2023 at 9:46 PM CDT
DILWORTH, Minn. (Valley News Live) - A happy ending Thursday for a Dilworth couple after their missing dog was found and returned to them. We told you about the missing dog hours before it was found. Check out our story here:
What was meant to be one of the most wonderful days of a couple's life, quickly turned in to something else for one Dilworth couple.
On Saturday, May 24th, Wyatt and Abby Ledoux were about to celebrate the next steps in their life as they got married.
But unfortunately for them, every pet parents worst nightmare, became a reality when they got a phone call from a friend.
"We got a call as soon as we stopped and got on the party bus. We were a couple miles out from the church and she said, "Your dog got out, I've been hollering for her, she's not coming to me,'," Ledoux said.
That's when the wedding day shenanigans stopped.. And turned into a frantic search for three-year-old Roxie.
"I was like booking it down the street, holding my dress up," Ledoux said. "My anxiety is like way sky high."
She said they spent two hours searching.
"A lot of people asked, 'Is it your wedding day?' I said, 'Yeah i'm not just standing in a wedding dress for no reason,' and they said 'You know you shouldn't be looking for your dog on your wedding day,' and I said 'I can't just not look for her,'," Ledoux said.
The couple had to return to their festivities.
Roxie has been spotted several times since her disappearance, but they still haven't been able to bring her home.
The family is now asking that if anyone sees her to not scare her off by trying to approach her, and instead, calling the family.
"I just hope that she's safe," Ledoux said. "If you can put yourself in my shoes, and her shoes, just think about, you know she's out there by herself at night and we just want to get her home safe."
Roxie was last seen Wednesday morning in Dilworth wearing a hot pink collar. If you see her, call 701-552-2014.
Copyright 2023 KVLY. All rights reserved.