Carbon dioxide pipeline debate: ND lawmakers ask AG to investigate Summit Carbon Solutions' investors
Published: May. 23, 2023 at 7:46 PM CDT
BISMARCK, N.D. (KFYR) - A proposed Summit Carbon Solutions carbon dioxide pipeline has sparked a bitter debate in North Dakota.
Some people, including the majority of elected officials in North Dakota, see carbon capture as a way to get the most out of the state's energy industry, while also maximizing investment in North Dakota. Others see a landowner's worst nightmare in the form of property rights violations. It's that latter group that's now encouraging the Attorney General to investigate Summit Carbon Solutions' investors.
A line of vehicles with out-of-state plates on a section line. For some, this represents a serious threat.
"It feels terrible. It makes you angry, it makes you sad, it makes you just, I can't describe it," said Sue McLean of Menoken.
The vehicles carry surveyors, whose job is to determine if a carbon pipeline will run through this land.
"Water will get me wet, oil will get me dirty, gas might rupture and I might have a problem, but this will kill me," said McLean.
The concern? Carbon dioxide is heavier than air, and if a pipeline carrying CO2 were to rupture near a population center, people could be in danger.
"There's going to be a lot of damage and a lot of death," said Representative Lori VanWinkle, R-Minot.
But that issue isn't exactly settled.
"There's been a lot of concerns about safety. But, of course, nationally, there's never been a death from a CO2 pipeline," said Governor Doug Burgum, R-North Dakota.
Now, 31 lawmakers say Summit's purchase of land would violate recently-passed North Dakota laws because of their investors.
"We respectfully ask for an Attorney General investigation into the investors of the proposed Summit Carbon Solutions carbon pipeline," said Senator Jeff Magrum, R-Hazelton.
Senator Magrum says foreign countries like China have invested in Summit, which would violate House Bill 1135 and Senate Bill 2371. Those bills prohibit foreign governments from owning land in the state.
"Make no mistake, a 99-year easement is an acquisition of a property right, and allowing such a pipeline to potentially fall under foreign control is something we should be very cautious about," said Representative SuAnn Olson, R-Baldwin.
Representatives for Summit Carbon Solutions call these concerns "unfounded accusations," and they say it'll provide North Dakota with economic opportunities — a sentiment that's echoed by top-ranking elected officials.
"Coal, agriculture, oil and gas, which means, our three biggest industries, all benefit mightily from being able to capture or utilize CO2," said Gov. Burgum.
Many of those in attendance Tuesday plan to voice their concerns to the Public Service Commission next week.
The North Dakota Public Service Commission will hold another public hearing about the project at the Heritage Center in Bismarck on June 2. The last one lasted about 14 hours, and many who attended didn't have a chance to speak.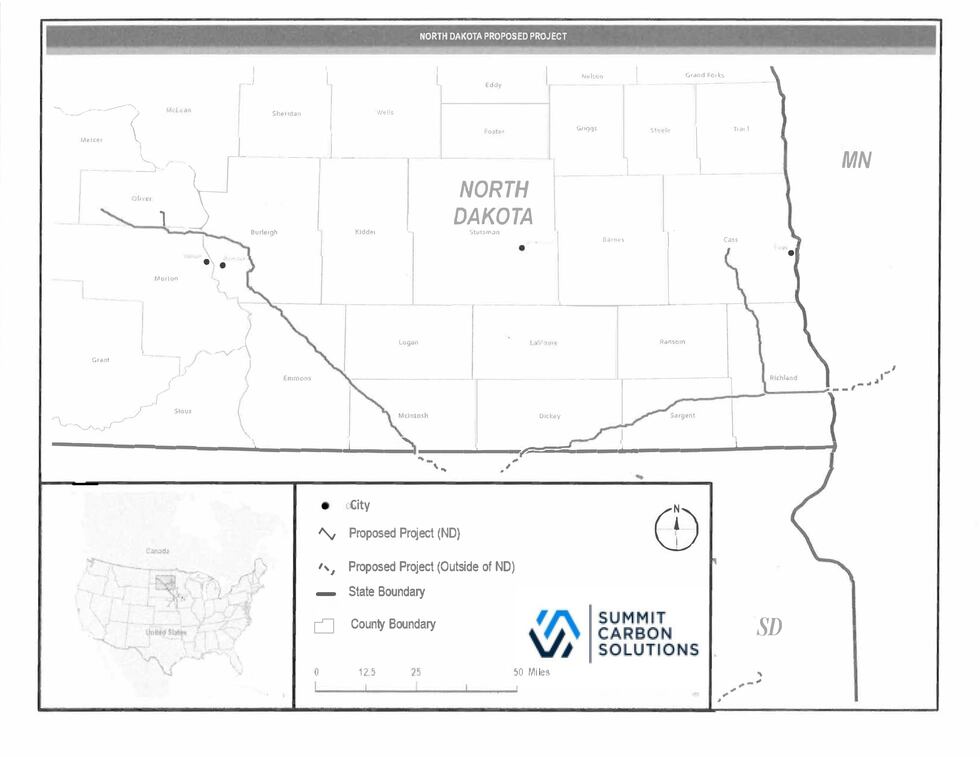 Copyright 2023 KFYR. All rights reserved.