Minnesota woman trying to get gnome to Willie Nelson
Kadie Kemp has two passions, Willie Nelson and making gnomes.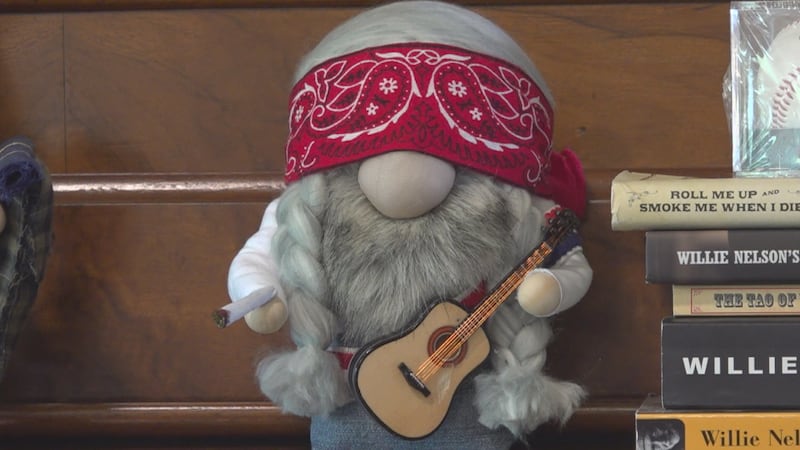 Published: May. 19, 2023 at 9:20 PM CDT
|
Updated: May. 19, 2023 at 9:29 PM CDT
FELTON, Minn. (Valley News Live) - Many in the Valley are looking forward to Willie Nelson, next week.
He'll be in Moorhead Monday and Tuesday night, and tickets sold out fast.
However, few are as excited as one Felton woman.
"In 2004, him and Bob Dylan were doing stadium concerts and I was right up against the stage," Kadie Kemp said. "Willie gave me a little wave, smile and nod when I screamed, 'I love you Willie.' He had me from that point, for sure."
Kemp has two passions, Willie Nelson and making gnomes.
"This is my Willie Nelson gnome. I made it a few years ago, actually," she said. "I had a desire to give it to Willie, but it didn't quite make it there. I'm going for round two now, here in Moorhead."
Kemp started making gnomes as a way to pass time during the pandemic. It's since turned into a full-time job.
She's tried to get it into the hands of the country star a couple of times, but it hasn't quite made it there.
"The closest I came was a few years ago, when I saw him in South Dakota," she said. "I came across their tour bus and I had little Willie with me. Lukas Nelson came out of the hotel and I got a little star struck. I didn't know what to say."
Monday's concert will be her eighth time seeing Willie Nelson and hopefully her first time achieving her mission.
"I'm just going there with him and trying to make my way to Willie," Kemp said. "I'm not sending it with a security guard again, that didn't work last time."
Kemp would be speechless if she gets the gnome to Willie before he's on the road again.
"It's has to be in the hands of a Nelson or it has to come home with me again," she said.
Kemp is going to the concert Monday night. Valley News Live will have an update if she's finally able to get her gnome to Willie Nelson.
Copyright 2023 KVLY. All rights reserved.