Former North Dakotan indicted on federal charges for involvement in Jan. 6 Capitol riots
Rockne Gerard Earles is due back in court on Nov. 1.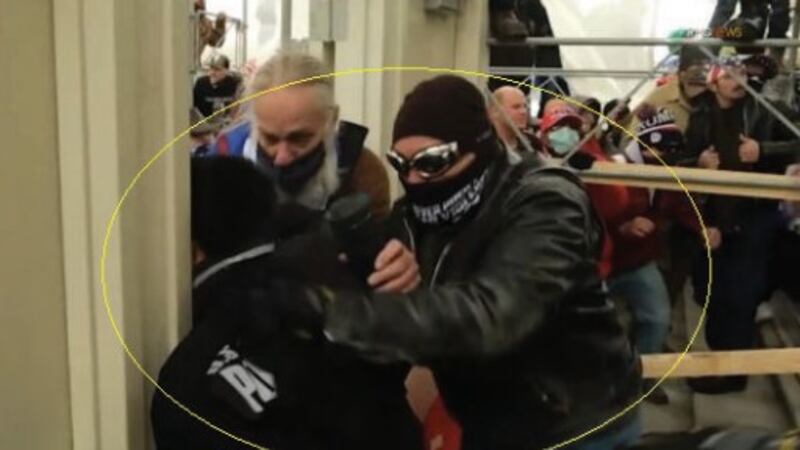 Published: Apr. 13, 2023 at 3:50 PM CDT
|
Updated: Oct. 23, 2023 at 3:51 PM CDT
WASHINGTON, D.C. (Valley News Live) - A former Oriska, North Dakota man has been indicted on federal charges for his alleged involvement in the Jan. 6, 2021 attack on the U.S. Capitol.
Rockne Gerard Earles, 62, is charged with assaulting, resisting, or impeding officers, and civil disorder. He also faces six misdemeanor charges. He now lives in New Mexico, where he was arrested on the charges in April.
Documents say on Jan. 16, 2021 the FBI National Threat Operations Center received an anonymous tip indicating that Earles allegedly participated in the Capitol riots and that he posted on his Facebook page about how to attend the event.
The FBI compared Earles' North Dakota driver's license with surveillance video from the U.S. Capitol and found a potential match of Earles in the building.
Documents say legally obtained phone records show he traveled from North Dakota to Washington D.C. and that he was inside the Capitol during the attack, for about 27 minutes.
Earles ran for a seat on the Barnes County Commission in November of 2020, to no success.
The indictment was filed last week in U.S. District Court for the District of Columbia. His arraignment hearing is set for Nov. 1.
Copyright 2023 KVLY. All rights reserved.