UPDATE: Shiloh Christian, Central Cass advance to title game; DLB, Beulah to 3rd place tilt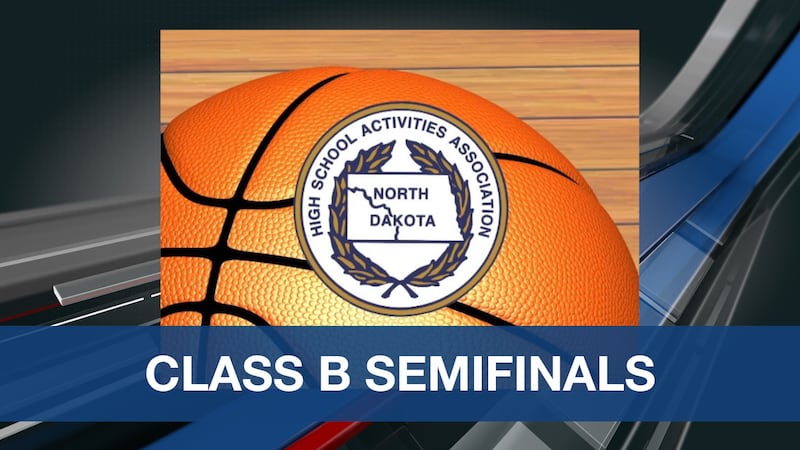 Published: Mar. 17, 2023 at 8:59 PM CDT
BISMARCK, N.D. (KFYR) - Congratulations to the Beulah Miners on a third-place finish in the state tournament! They finish with a 22-5 overall record and the Region 7 Championship.
Central Cass takes down Shiloh Christian to win their first state title since 1968 and complete their undefeated season. Central Cass becomes just the second school ever to win both the Class B boys and girls state championships in the same year.
ORIGINAL STORY: It's 1 vs. 2 for the title, as Shiloh Christian and Central Cass held on to advance to Saturday night's championship game.
Des Lacs-Burlington will face Beulah in the third-place game.
Powers Lake-Burke Central will face Thompson in the fifth-place game.
Medina-Pingree-Buchanan will face Warwick in the seventh-place game.
Here's a recap of the semifinal games in the winner's bracket:
Shiloh Christian 65, Beulah 61 (OT)
The first semi-final game at the Class-B Boys State Basketball Tournament featured the two and three seeds and it was as good as advertised.
Shiloh Christian defeated Beulah in overtime 65-61.
The Skyhawks held the lead for most of the game, but Beulah rallied from double digits down, outscoring Shiloh 24-21 in the 4th quarter. In the final minutes of regulation, the Miners hit a three-pointer to force the extra four-minute period.
Shiloh was led by their two big men. Jay Wanzek had 20 points and 11 rebounds, followed by Atticus Wilkenson with 21 points and six rebounds. Guard Kyle Klein chipped in 16 for the Skyhawks.
Beulah's scorebook was led by a game-high 24 points from Trace Beauchamp.
The last time Shiloh Christian was in the championship game was 2019. The Skyhawks were runner-up to Thompson that year.
Central Cass 64, Des Lacs-Burlington 57
The top-seeded, number-one-ranked and undefeated team advanced to the championship game with a 64-57 victory over Des Lacs-Burlington.
The game was tight throughout but in the end, the Squirrels prevailed.
The title game on Saturday will be Central Cass vs. Shiloh Christian. The girls team from Central Cass won the state championship earlier this month.
Copyright 2023 KFYR. All rights reserved.