Mandan man captures North Dakota history through camera lens
Published: Mar. 17, 2023 at 3:09 PM CDT
MANDAN, N.D. - A photo may be worth a thousand words, but there aren't enough words in the dictionary to describe all the photos Bill Koch has snapped during his lifetime.
He's the man responsible for many of our state's most well-known photos from the 1960s, plus many others.
Koch worked for many years as a photographer for the North Dakota Department of Transportation and the North Dakota National Guard. He was often asked to take pictures for the governor's office and tourism department too.
It wasn't a job he ever imagined he'd have.
"I wasn't brought up near a camera," said Koch.
But he quickly realized this job offered a front-row seat to many big moments in history. He learned to take aerial photos.
"I wasn't brought up in an airplane, but I got teamed up with a World War Two bomber pilot and he was terrific. I trusted that man with my life," said Koch. "We had an 18-inch hole in the bottom of the plane that's where the camera was."
Some of his most memorable photographs were taken during the winters of 1965 and 66. Each photo brings back a memory and a story.
Using a 4x5 press camera, Koch even managed to get in some of the pictures he took.
Koch is now in his 80s, but looking through these pictures, he's transported to his younger days,
These photographs remind him of the adventures he had.
"You did all kinds of different jobs, you went to different places, new experiences," he said.
And the people he met.
"I've always liked people and we met all different kinds of people," he said. "A lot of the people in this photo are not on this earth anymore."
But thanks to Koch's pictures, those people and those moments will never be forgotten.
Koch reluctantly started photographing weddings when one of the women who worked in his office at the NDDOT convinced him to photograph her wedding. He says he wasn't really sure how to take pictures of people but says he must have done alright because, for a few summers, he spent nearly every weekend photographing weddings for coworkers.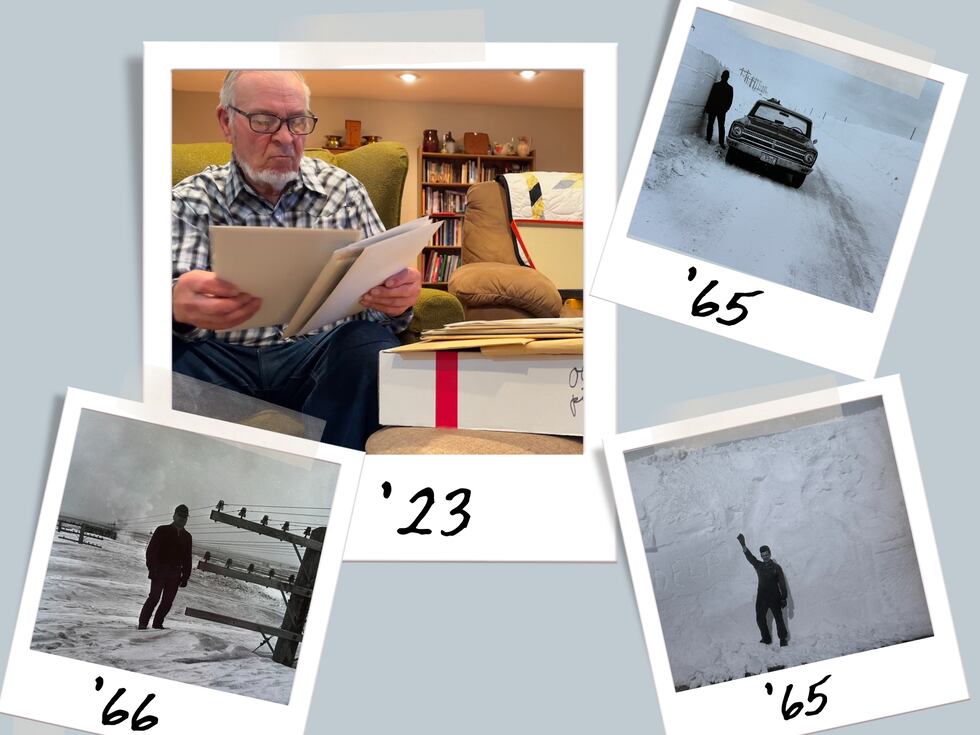 Copyright 2023 KFYR. All rights reserved.