Class-B state boys basketball tournament quarterfinals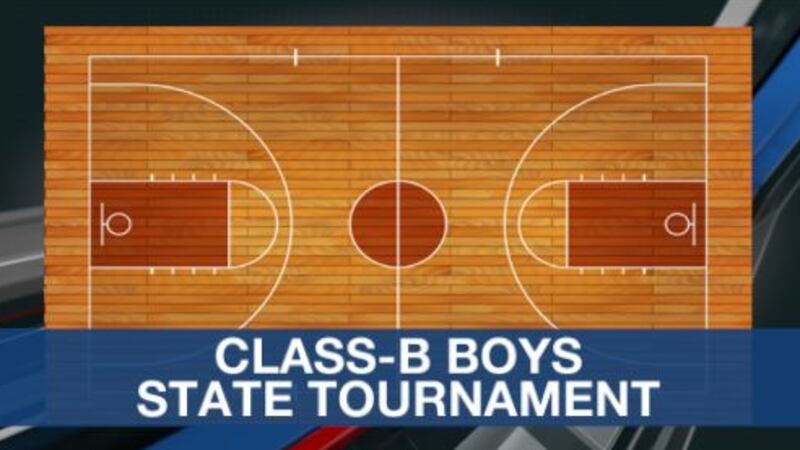 Published: Mar. 16, 2023 at 3:02 PM CDT
BISMARCK, N.D. (KFYR) - Des Lacs-Burlington-55, Thompson-48
In the battle of the 4-5 seeds, Des Lacs-Burlington moves on to the semi-finals with a 55-48 win over Thompson.
The Lakers opened up a 33-18 halftime lead. The Tommies cut the deficit down to 4 points in the 4th quarter, but DL-B held off the charge to win.
Carson Yale had a double-double, 14-points & 11-rebound for DL-B.
The Tommies Lucas Starcevic led all scorers with 15 points.
The second semi-final game on Friday will be DL-B against Central Cass.
Central Cass-58, Warwick-46
Warwick went cold in the 4th quarter and the top-seeded team in the tournament stays unbeaten on the season. Century Cass beat the Warriors 58-46.
The Squirrels outscored Warwick 20-3 in the final period to advance to the semi-finals on Friday.
Central Cass was led in scoring by Cole Holzer with 16 points. Carter Vrebota was next with 12.
Warwirk's top scorer was Elijah Feather, Jr. with 19 points. The Warriors are playing in the "B" for the first time since 1996.
Beulah-48, Medina-P-B 31
The Thunder from Medina-Pingree-Buchanan had the lead over Beulah at the first quarter stop and at halftime, but the Miners were strong in the second half, and they advanced to the semi-finals with a 48-31 victory.
Beulah outscored Medina-P-B 29-10 in the second half.
Braylen Schirado led the Miners in scoring with 12 points, Trace Beauchamp had 10 points.
Beulah will play Shiloh Christian in the first semi-final game on Friday evening. They played during the regular season and the Miners prevailed 51-46 on their home floor on January 13.
Shiloh Christian-69 , Powers Lake-Burke Central-38
The 2nd-seeded Skyhawks of Shiloh Christian built a 20-point lead at halftime and then extended it in the second half to defeat Powers Lake-Burke Central 69-38 in the quarterfinals of the State-B Boys Basketball Tournament.
Shiloh shot 75% from the field in the first half. The Skyhawks have a balanced offense and it showed on Thursday. Kyler Klein and Isaac Emmel had a team-high 14 points. Caden Englund chipped in a dozen.
The Skyhawks' defense held Mr. Basketball Finalist Tyson Enget to just 9 points.
It's the first time since 2016 that the Skyhawks have advanced to the state semi-finals.
Copyright 2023 KFYR. All rights reserved.