UPDATE: Semi driver charged with negligent homicide in fiery crash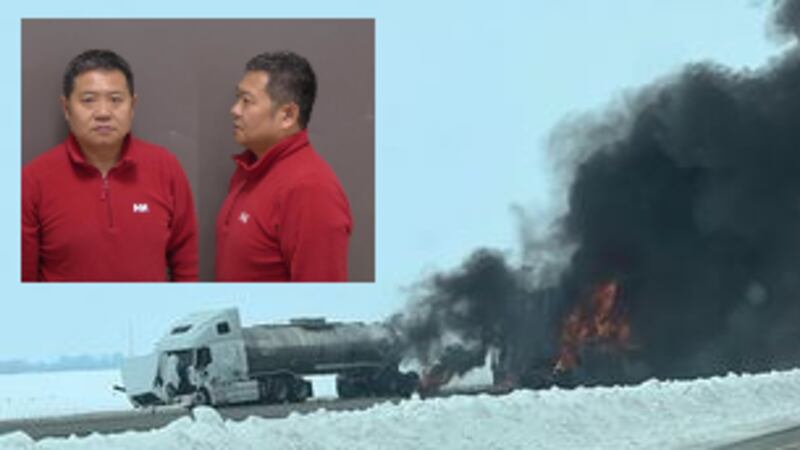 Published: Mar. 15, 2023 at 3:15 PM CDT
|
Updated: Mar. 15, 2023 at 10:07 PM CDT
NEAR MAPLETON, N.D. (Valley News Live) - A semi driver who stopped on Interstate-94, leading to a deadly crash, is being charged with negligent homicide. The North Dakota Highway Patrol says 52-year-old Yuhai Zhu, of Richmond Hill, Ontario, was arrested on March 16 and booked into the Cass County Jail.
Troopers have identified the man who died in the fiery crash as Randall Buxton, 72, of New Westminster, British Columbia.
North Dakota Highway Patrol says a little bit before 2:00 p.m. on March 15, first responders were called to a semi that was stopped in the right westbound lane of I-94 two miles west of Mapleton. An investigation is underway as to what may have been wrong with the semi.
NDHP says minutes after the initial call, dispatch received another call that two semis collided and were fully engulfed in flames. Officials say the Peterbilt semi approached the tanker truck, swerved left, but rear-ended the tanker. At the time of the crash, the tanker was hauling 7,500 gallons of airplane de-icer and began to leak the chemical after the crash.
After the fire was put out, it was discovered that Buxton was still in the cab of the Peterbilt and was deceased. Zhu was not hurt in the crash.
"It is a difficult scene for all the first responders. Number one, you're dealing with a very, very violent crash that occurred between two very large vehicles," NDHP Capt. Bryan Niewind said. "There was a fire that resulted and obviously, unfortunately, one of those drivers was unable to get out of that truck. It's a very disturbing scene. Obviously then we have the hazmat incident going on in the same location at the same time. So, it's just a very, very difficult scene to go through."
The Department of Transportation says they aren't concerned about damage to the roadway, but an estimated 6,500-6,700 gallons of ethylene glycol leaked from the tanker trailer into the north ditch along I-94.
"We have some concerns with the spring runoff coming that we need to get that cleaned up," Karl Rockeman with the North Dakota Department of Environmental Quality said.
Westbound I-94 was closed for approximately eight hours, but reopened around 9:30 p.m. on March 15. The interstate will remain open during clean-up efforts.
Copyright 2023 KVLY. All rights reserved.