Cooper Jones - New U-Mary A.D.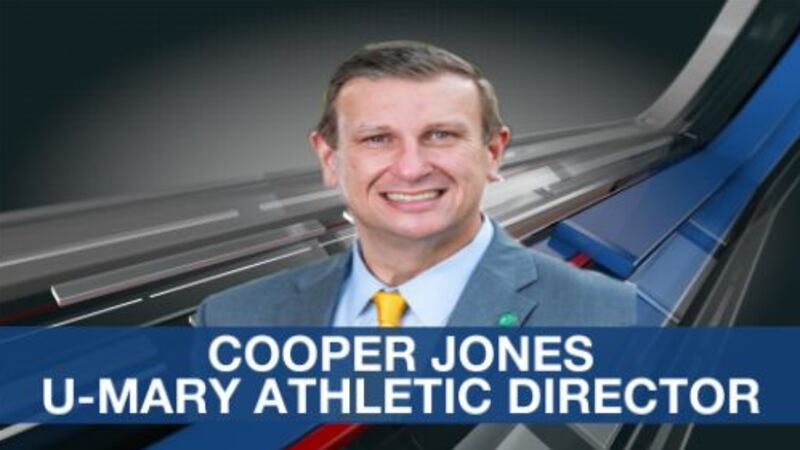 Published: Mar. 13, 2023 at 3:42 PM CDT
BISMARCK, N.D. (KFYR) - For just the fourth time in school history, the University of Mary announced the hiring of an Athletic Director. Cooper Jones' day at the dais had to wait a week due to the weather, but this afternoon, the Marauders' new man in charge of the sports department took center stage.
Jones comes to Bismarck from Cal-Poly Humboldt, which is in Northern California.
Cooper is from Georgia, and he has nearly a quarter of a century of experience at Power-Five Division One Universities.
Jones' resume is highlighted by his ability to generate new revenue streams. U-Mary is currently carrying out its Vision-2030 plan, but Cooper says on the "D-II" level you can not lose sight of the student part of supporting student-athletes.
"I don't know that it resides at each and every level of the NCAA specifically when you're talking about budgets with 100, 150, 200 million dollars you have a business to run. We are still in the business of educating scholar-athletes here so I think that's probably the unique difference that I could correlate from the division one to the division two-level," said Cooper Jones, U-Mary Athletic Director.
Jones says he has worked on getting 16 brand new facilities at universities throughout his career and last fall, U-Mary announced plans to add an on-campus sports complex which includes things like football, soccer and baseball stadiums, plus an air dome and turf practice fields.
"It's the reason why we feel that the skill sets that we've developed play well. You need to have virtuous leaders who clearly and effectively articulate points and set up plans to tackle problems facing the world. When you think about greatness for virtue isn't that every one of the key points that we've identified here that opportunity to be a leader within that NCAA space. It's incredibly appealing for me. I've had that opportunity within my time at Cal Poly Humboldt and look forward to being a leader here as well," said Jones.
Jones is replacing Dale Lennon who left U-Mary back in April of last year to become the executive director of the State Historical Society Foundation of North Dakota.
Copyright 2023 KFYR. All rights reserved.