Minot State football shares 2023 schedule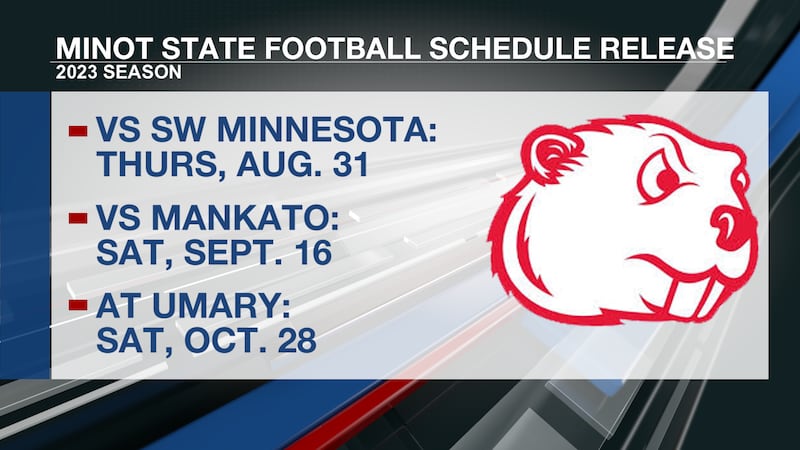 Published: Mar. 8, 2023 at 1:57 PM CST
MINOT, N.D. (KMOT) – The Minot State Beavers football team is ready to kick off the 2023 season under new head coach Ian Shields.
The team announced this season's schedule in a release Wednesday afternoon, beginning with a Thursday night home opener against Southwest Minnesota State.
"It should be a great atmosphere here in the Magic City as we kick off the season," said Shields.
This year's homecoming is the third week of the season, against Minnesota State-Mankato on Sept. 16 in Minot.
The Battle of the Big Lake will be held in Bismarck this season. Minot won the last meeting at home.
"The NSIC is a tremendous conference that will challenge us each week and we're working hard in preparation for those battles. We will play hard, we'll play smart, and we'll have some fun doing it together – the scoreboard will take care of itself," said Shields.
The Beavers will step outside of the Northern Sun Intercollegiate Conference for the first time since stepping up to NCAA Division II. Minot will travel to Houghton, Mich., to play at Michigan Tech, a member of the Great Lakes Intercollegiate Athletic Conference.
"We're excited about this upcoming season and the opportunities in front of us," said Shields.
MSU will host its annual spring game on Saturday, April 22, inside the Air-Supported Dome.
For the full schedule, visit the Minot State Athletics website.
Copyright 2023 KFYR. All rights reserved.