Cooper Jones Named U-Mary Athletic Director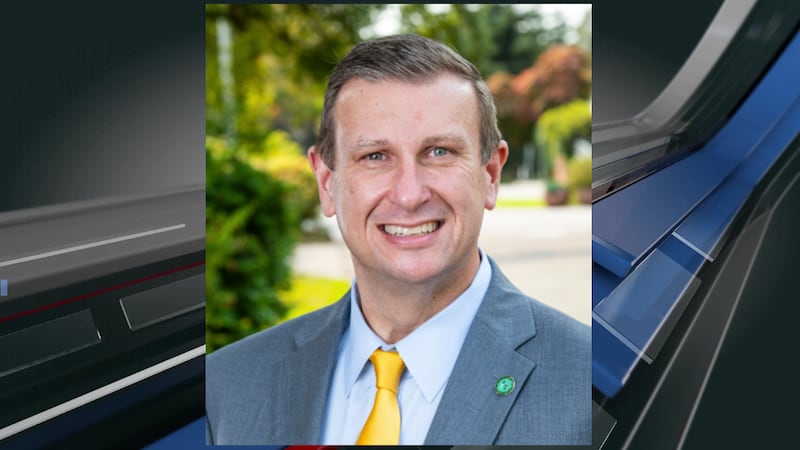 Published: Feb. 24, 2023 at 1:16 PM CST
BISMARCK, N.D. (KFYR) - The University of Mary has hired Cooper Jones as its next Athletic Director replacing Dale Lennon. Dan Huntley has been the interim Athletic Director for the Marauders.
Here is the news released from U-Mary:
BISMARCK, ND — The University of Mary has named Cooper Jones to be its executive director of intercollegiate athletics, in charge of athletic administration and all Marauders Armada fundraising in support of its new Greatness through Virtue Strategic Plan. Jones becomes only the fourth person to lead Marauders athletics following in the footsteps of highly revered North Dakota legends Al Bortke, Roger Thomas, and Dale Lennon.
Jones comes to the University of Mary in Bismarck, ND, with nearly 25 years of leadership experience, with stops at NCAA Division I Power 5 conference schools Arizona State University (executive associate athletic director), University of Louisville (assistant athletic director for development), University of Maryland (director of major gifts), and Georgia Tech (development officer). His other Division I administrative posts include senior associate athletic director (University of North Texas), and assistant vice president and chief of staff for institutional advancement (Tarleton State University). He is currently the executive director of intercollegiate athletics and campus recreation at NCAA Division II Cal Poly Humboldt.
"I want to thank the University of Mary for giving our family this incredible opportunity," said Jones. "To everyone who supports and represents UMary athletics — from our scholar-athletes, donors, and fans to our coaches, staff, and administrators — you are the heart and soul of Marauders Athletics, and I am humbled and honored to lead an organization that means so much to each of you. As your athletics director, you can expect me to be visible, to be connected and engaged, and to be tirelessly devoted to the success of our scholar-athletes and coaches."
At each collegiate institution Jones has helped make a significant impact, with expertise in generating new revenue streams; raising academic excellence; developing strategic plans; improving operations and game day management; enhancing facilities, infrastructure, staff development and brand awareness; marketing; compliance; cultivating external relations; and securing record-breaking fundraising dollars.
Jones has been part of three university advancement capital campaigns in excess of $1 billion. He's led unit-based capital campaigns and annual fund drives of more than $920 million, with direct responsibility for $495.5 million in new gifts and commitments. At ASU, he negotiated a new apparel agreement with Adidas, forecast to generate 125% in new revenue. At UNT, as lead executive, he secured the second largest NCAA Division I corporate naming rights agreement for an on-campus football stadium. He has served as a board member of the Fiesta Bowl Committee and the Phoenix Arizona chapter of the National Football Foundation.
Jones begins transitioning to his duties at the University of Mary on March 6, marking more than 10 months since the Marauders leadership role became vacant. At 1 p.m. that day, in Butler Auditorium of the Gary Tharaldson School of Business on campus, he'll be introduced at a press conference to media, coaches, fans, boosters, and faculty and staff. Jones will work remotely until April 3, when he begins working from his office on campus.
"Ten months can seem like an eternity, especially in the world of athletics," explained University of Mary President Monsignor James Shea. "When we started this process, we knew we couldn't settle on just any candidate. We needed to be diligent, methodical, prayerful, and deliberate in our search. Above all, we needed to exercise one of the most important of virtues — patience — not as a sign of weakness but as a signal of strength. Well, the wait is over, and an exemplary servant leader is on his way. We believe Cooper is the right person at the right time to lead us through our Greatness through Virtue Strategic Plan and capital campaign, which is truly a new era for Marauders athletics. His devotion to our Christian, Catholic, and Benedictine mission, his attention to detail, and his leadership experience at the collegiate level is impressive and visionary."
Jones' vision is centered around his Christian faith. He's built a successful career guided by his faith and the servant leadership model that align with the mission and Benedictine values of the University of Mary. A native of Conyers, GA, Jones earned a bachelor's degree in journalism and public relations from Ohio University, where he was a three-year letter winner and senior team captain in football. He's married to Tiffany Jones (Goodman), and they have a son Jack and twin daughters, Annie and Janie.
"As a family, we felt called to this opportunity and are truly blessed to join the UMary family," stated Jones. "I am grateful to Monsignor James Shea, Executive Vice President Jerome Richter and the hard-working members of the search committee for their confidence in me. The chance to join a university which aspires to achieve 'Greatness through Virtue' was such a compelling part of our interest in this leadership role at UMary."
University of Mary Executive Vice President Jerome Richter believes Jones is particularly suited and qualified for this new, expanded role as head of Marauders athletics. Richter, who oversees University of Mary's overall $272 million Vision 2030 Capital Campaign, will work closely with Jones as they continue to build the Marauders brand and reach their fundraising goals.
"With the start of phase two of the Vision 2030 Capital Campaign, the timing was perfect for our family. The chance to join such a vibrant and growing community, and for our family to call Bismarck home, made this quite frankly an opportunity we couldn't pass up," said Jones.
While Richter is excited to have Jones on board during this new era of Marauders athletics, he is also very grateful to Dan Huntley, who gracefully steered the Marauders ship in the right direction as interim. "An unsung hero during this hiring process has been Dan Huntley, as interim athletics director," stated Richter. "He'll be the first to tell you, he was only doing his job as our senior associate athletic director. Well, that may be true, but he did it admirably, with pride, determination, and the utmost professionalism while also coaching the best hockey team in ACHA Division II. Dan is a championship coach, an even better person, and a true leader. I can't thank Coach Huntley enough for his service."
While Jones' first priority will be to hire a new football coach, he'll immediately use his strategic planning and fundraising skills to take the lead role in the newly announced $40-plus million Marauders Athletics Complex that is included in the Phase II of the Vision 2030 Capital Campaign. That project will bring many sports back to campus by featuring a new Game Day Plaza and football stadium with air dome and research pavilion to be used year-round as a multi-purpose facility, seating approximately 2,500 fans on the main grandstand and many more on the berm surrounding the field. Also inside the complex are baseball and softball diamonds and a soccer field enclosed by an eight-lane track and field — all scheduled for completion in the coming years.
Copyright 2023 KFYR. All rights reserved.