Neighbors' backyard ice rink brings Bismarck families together
Published: Feb. 6, 2023 at 6:27 PM CST
BISMARCK, N.D. (KFYR) - North Dakota winters can be cold, dark, and icy. Yet for some, the weather is welcome. A group of Bismarck parents, with almost enough kids to field a couple of hockey teams, built a backyard ice rink that has brought their families and the neighborhood together.
Kids often trek past some houses and down a snowy path in Bismarck to their favorite outdoor spot.
"A lot of our friends come over," said 9-year-old Frannie Kennelly as she laced up her skates.
Laces tied; skaters take to the ice.
It took a group of parents about two days to build the backyard ice rink.
They set the rink up in a neighbor's garden plot.
"Took a few weeks to get the water filled in there, get the boards put up, the tarp put down, the water in there," said Conor Kennelly, Bismarck parent.
Conor Kennelly and David Simoes did a lot of the work. Conor said he's never built a backyard rink before, but David has constructed them before, inspired by his own childhood and his career playing minor professional hockey in the Central Hockey League.
The rink was ready for skating in December.
"What were you feeling when you skated on the rink for the first time?" Your News Leader asked a skater.
"I thought it was really cool to have a rink in town because lots of people can't do that," said 12-year-old Lucy Simoes.
It's been busy ever since.
"Basically, every day after school we can come out and skate and on the weekends, I like to skate around," said 11-year-old Maria Kennelly.
"Walking down here, you can hear the sticks hitting the pucks and the sticks hitting the ice, and the kids laughing. It just kind of brings you back to being a kid," said David Simoes.
Everyone has their favorite part.
"We can play with our neighbors," said 5-year-old Joe Simoes.
"That you get to do figure skating," said 8-year-old Bernadette Simoes.
"You can skate around faster than running," said 8-year-old Evelin Kennelly.
The fun doesn't stop when the sun goes down.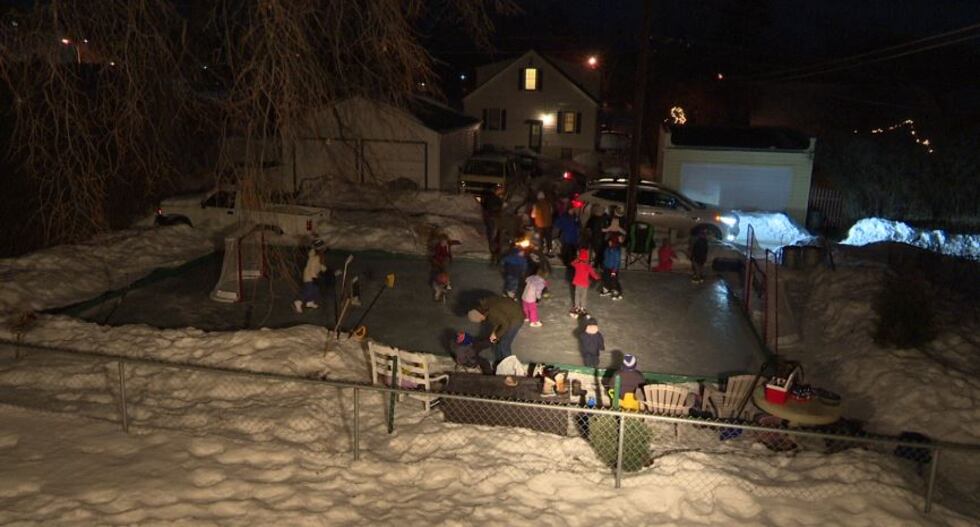 The families say they've been able to enjoy the outdoors with their neighbors more than ever before.
"It just feels like the childhood I had when I was growing up. No one has to call each other on their cell phone. They just show up at the rink and there's kids here. It feels so small town," said Jenna Kennelly, Bismarck parent.
The families say it's been a winter to remember.
The Kennellys and the Simoes plan to keep the tradition alive. They hope to put in a bigger rink or possibly two rinks next year.
Copyright 2023 KFYR. All rights reserved.