UPDATE: Details on Jamestown priest arrested on sexual exploitation charges
Anyone with information should contact local law enforcement.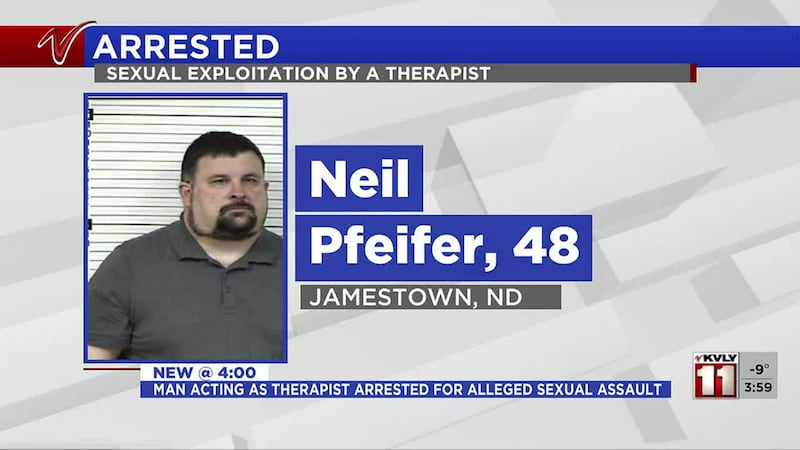 Published: Feb. 2, 2023 at 6:40 PM CST
|
Updated: Feb. 2, 2023 at 8:40 PM CST
FARGO, N.D. (Valley News Live) - A Priest with The Diocese of Fargo was arrested on suspicion of committing sexual exploitation by therapist in Stutsman County.
The Diocese says on Jan. 14, Father Neil Pfeifer was removed from active ministry, pending an investigation into allegations of inappropriate conduct.
"Today I have learned that Father Pfeifer was arrested. Father Pfeifer remains out of ministry as pastor of the Basilica of St. James in Jamestown, St. Margaret Mary in Buchanan and St. Mathias in Windsor, pending the outcome of the criminal investigation," said the Most Reverend John Folda, Bishop of Fargo. "The Diocese of Fargo is cooperating fully with the investigation. Please pray for all involved."
Fargo attorney Tim O'Keeffe has known about this since early January. He and law firm - O'Keeffe O'Brien Lyson Attorneys - represent clients who say they have been through significant physical and emotional trauma at the hands of the priest.
The law firm communicated detailed information of the alleged sexual assaults to the North Dakota Bureau of Criminal Investigation (BCI) in January, which was the basis for the investigation. The BCI has been overseeing the investigation with assistance from local law enforcement.
O'Keeffe stated "It's been very difficult to keep our lips sealed for the past month. My clients have bared their souls to me about this and, hopefully, now we can get some closure and justice for these victims. These adult women have been incredibly brave in bringing this terrible situation forward." In addition to his clients, O'Keeffe says he has spoken to others who also say they were assaulted by the priest, but so far have not felt comfortable coming forward.
O'Keeffe says he believes others have reached out to him at his Fargo office too, but he has not been able to speak directly to additional potential victims. His firm has extensive experience in representing victims of assault by Catholic priests.
"Sadly this seems to be a systemic problem in the Catholic church community, "said O'Keeffe. "Sitting with these victims is heart-wrenching, listening to them verbally reliving the lurid details of events they describe as sexual assaults." According to O'Keeffe, his current clients suffered these traumas "One nearly two years ago, another very recently."
Anyone with information regarding these incidents is encouraged to contact Jamestown Police Sgt. Jason Prochnow at 701-252-2414 or N.D.B.C.I. Special Agent Troy Kelly at 701-251-2993.
Pfeifer is also facing another charge of sexual exploitation by therapist in Logan County, N.D. according to court documents. Law enforcement's investigation on the case in Logan County started on Jan. 23 when they interviewed the victim. The victim said between March and June of 2021, she was sexually assaulted by "spiritual director" Neil Pfeifer. Pfeifer was a Priest at St. Phillip Neri Catholic Church at the time.
The victim said on several occasions, she had oral sex with Pfeifer. The victim says while inside of St. Neri, Pfeifer kissed her on the mouth and grabbed her inappropriately. He had also taken her hands to touch him inappropriately. The acts also happened while on retreat with Pfeifer.
The victim says, sometimes after the incidents, Pfeifer would ask her to confess to their actions after the incidents were done.
Pfeifer admitted to all of the acts to law enforcement.
The Diocese of Fargo released a statement on the allegations against Pfeifer saying:
"The Diocese of Fargo learned of this allegation after receiving the prior allegation of misconduct from Jamestown. We will continue to cooperate with law enforcement, and I encourage anyone with additional information to contact law enforcement officials. Any and all sexual misconduct by those who work for the Church is unacceptable and contrary to our Faith and life in Christ. We continue to pray for all involved."
Copyright 2023 KVLY. All rights reserved.