The Wonder Fund: North Dakota partnering with Kevin O'Leary for small business investment program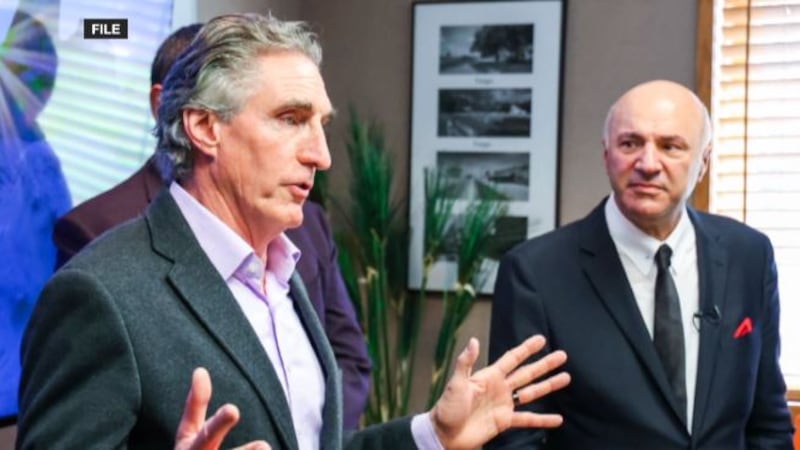 Published: Jan. 25, 2023 at 6:56 PM CST
BISMARCK, N.D. (KUMV) - Governor Doug Burgum has lofty goals for improving North Dakota's economy. On Wednesday, he and the state's commerce department announced a new partnership to help create new opportunities for small businesses.
At the heart of every city lies its small businesses. Starting one up can be challenging as business owners manage expenses and start-up costs.
"I think what happens to a lot of people or a lot of new businesses, is that they have sort of a plan, but run into a buzzsaw and they can't get past some hiccups when they get rolling," said Jeremy Stahowiak, co-owner of The Range in Williston.
As a way to help these businesses find their footing in North Dakota, the Department of Commerce has selected O'Leary Ventures to manage a $45 million direct investment program for early-stage small businesses. The Wonder Fund uses money allocated from the U.S. Department of Treasury and will be headed by international entrepreneur and "Shark Tank" star Kevin O'Leary.
"We'll invest in startups, we'll invest in businesses that exist that want to expand. There are rules and regulations on this program, but it's got some flexibility. The point is, it's not just the seed money. We need to attract capital as the business grows from everywhere," said O'Leary.
Governor Doug Burgum said the program is another way the state can strengthen communities, diversify the economy, and remain competitive for capital against the other states.
"The potential is unlimited for our state, and it's exciting to see that now we got an opportunity to bring capital here and we have an opportunity to have more talent come here or get talent to come back," said Governor Doug Burgum.
The initial investment from O'Leary Ventures is just the beginning. O'Leary said he believes more partners will follow his lead and further bolster the state's economy.
"I'm an investor, I can choose any state, it's a competition. I would never invest in New York or Massachusetts or California or New Jersey ever again. Not when I can invest in policy like North Dakota. Why would I?" said O'Leary.
Burgum added that the Wonder Fund, along with billions of dollars in other projects, can give North Dakota the highest Gross Domestic Product per capita in the nation. They currently sit in the top 10 according to the Bureau of Economic Analysis.
This isn't O'Leary's first venture in North Dakota. He is also an investor with Bitzero, whose headquarters will be established in the state.
More information and applications can be found here.
Copyright 2023 KFYR. All rights reserved.