UPDATE: Temporary stoplight set up at east end of Burdick & Broadway following crash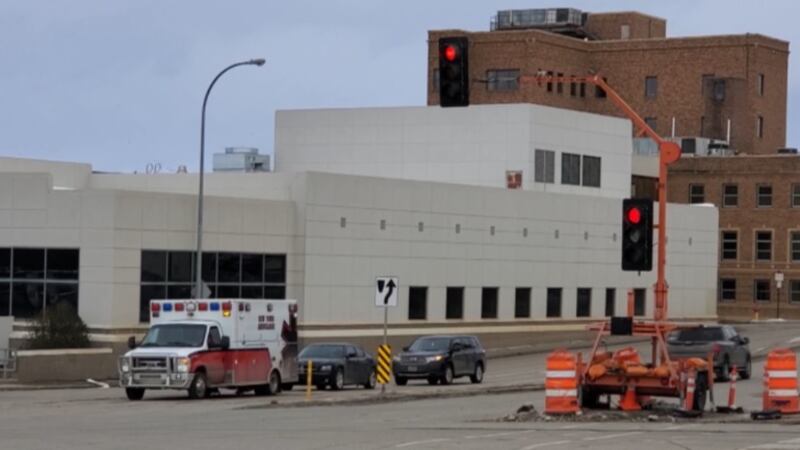 Published: Jan. 26, 2023 at 3:38 PM CST
MINOT, N.D. (KMOT) – UPDATE 1/27/23 12 P.M.: Drivers passing through the main intersection in Minot Friday noticed that it's back to being controlled.
Crews put up a temporary light on the east end of the intersection.
The permanent light was knocked down in a crash Thursday around midday.
The pole landed on two other vehicles, but no one suffered life-threatening injuries.
The intersection was an all-way stop until crews put up the temporary light.
Eastbound traffic looking to head north on Broadway will not have a turn signal until the replacement is up.
Drivers are advised to be extra careful and watch for oncoming traffic if you turn.
UPDATE 1/26/23 9 P.M.: Minot's main intersection will be a four-way stop for the time being.
Minot Police said a 43-year-old driver headed northbound struck the eastbound traffic signal around midday Thursday, knocking it down.
The signal struck two other vehicles when it fell. The driver was cited for care required.
His passenger was treated for non-life-threatening injuries.
Another light at the same intersection was knocked down in a crash in November.
ORIGINAL STORY: A crash Thursday afternoon in Minot knocked out one of the stoplights at the city's main intersection.
A vehicle collided with the light on the south end of the intersection. Minot police officers directed traffic through the intersection while crews attended to the crash.
Minot Police said one person was taken to the hospital for minor injuries.
It's the second time in three months that a crash knocked out a light at the intersection. In November, the light on the north end of the intersection was knocked down.
Copyright 2023 KFYR. All rights reserved.