Military looking into potential link between officer cancer cases and nuclear site construction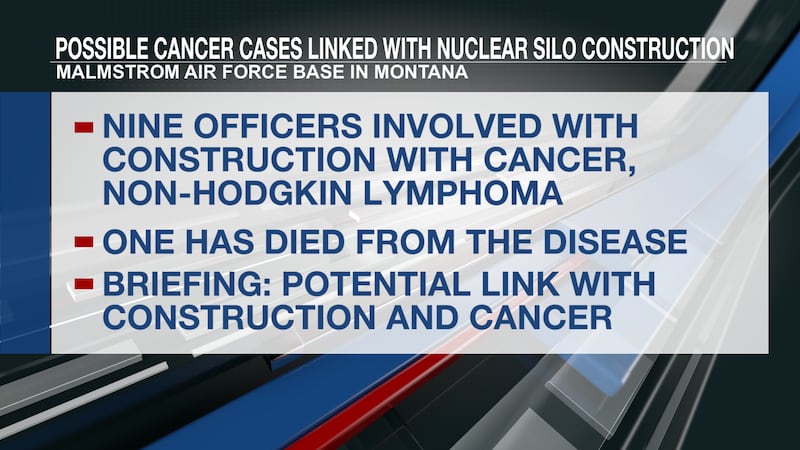 Published: Jan. 23, 2023 at 11:19 AM CST
CASCADE COUNTY, M.T. (KFYR) - Nine military officers, who helped construct a nuclear missile base more than two decades ago, believe a blood cancer they've all been diagnosed with is linked to their time at the site.
The officers were all involved in the construction of Malmstrom Air Force Base in Montana 25 years ago. Of those nine diagnosed with blood cancer, one of them has died from the disease.
The officers worked deep underground in a small operations bunker encased in concrete and steel, and remained there for days at a time.
U.S. Space Force Lieutenant Colonel Daniel Sebeck said in a military briefing that it's possible there's an association between the cancer and their time working in the construction of the missile base. He added that senior leaders are aware of the possible link.
"Missileers have always been concerned about known hazards, such as exposure to chemicals, asbestos, polychlorinated biphenyls, lead and other hazardous material in the work environment," Sebeck said in the briefing. "All missileers should be screened and tracked for the rest of their lives."
Copyright 2023 KFYR. All rights reserved.