Bismarck family overcomes several challenges to be in the stands on championship day
The teams aren't the only ones doing whatever it takes to get to Frisco.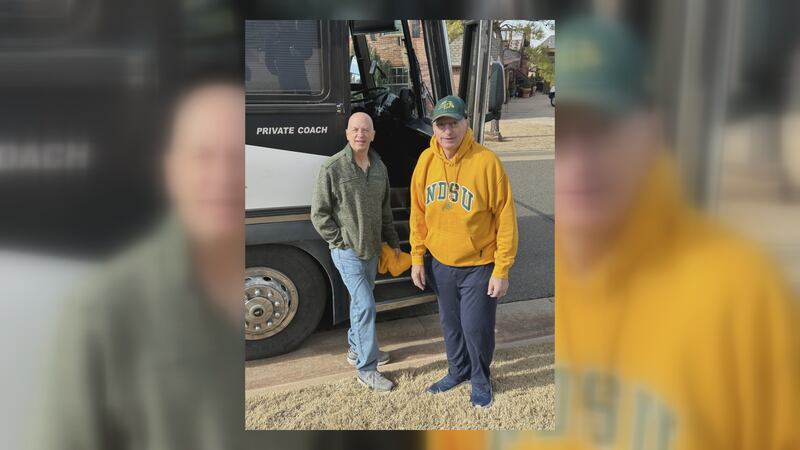 Published: Jan. 7, 2023 at 8:05 PM CST
FRISCO, T.X. (Valley News Live) - Kick off is less than 24 hours away in Frisco, Texas where NDSU and South Dakota State will face off for a shot at the national championship.
But the teams aren't the only ones who've overcome challenges to make it here.
The Aberle family made their first trip to Frisco from Bismarck in 2013.
"Oh, I've always been a fan of NDSU," Mark Aberle said.
Once Mike got a taste of championship weekend in Texas, he knew, they'd be back. But getting down south hasn't gotten any easier over the years.
"We've had all kinds of challenges," he said. "One year I came down here, I had kidney failure in 2014."
Determined to be in the stands on game day, Mike loaded up his supplies and did his dialysis along the way.
It's his fourth time in Frisco, and he's doing better. But this time, it's his dad overcoming the challenges.
"In 2015 he had a blood vessel break in his head," Mike said. "It created some brain damage and it something he had to struggle back from and it still impacts him today."
He picked up his dad, Richard, in Oklahoma along the way. While the brain injury has left him forgetful, Frisco is familiar to the 84-year-old.
"I met people this afternoon from Bismarck that I never even knew of before," Richard said. "I feel like I'm friends with them now because of the Frisco connection."
When Richard is in town, he starts to remember what he may have forgotten.
"We win down here," he said. "I don't want to be greedy, but we do. I mean, most people don't want to play us."
"That's precious to me. You don't know how many years you get to keep doing that," Mike said. "Take advantage of every chance you get."
Copyright 2023 KVLY. All rights reserved.