UPDATE: Crash causes traffic backup on Highway 2 west of Ray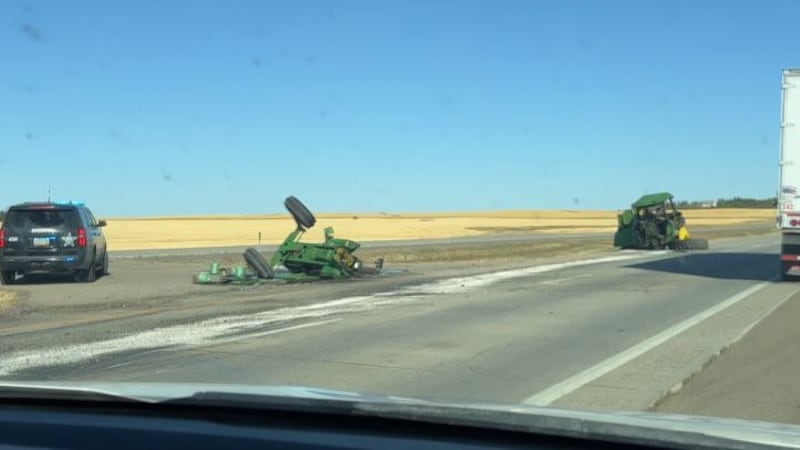 Published: Sep. 21, 2022 at 6:21 PM CDT
WILLIAMS COUNTY, N.D. (KMOT) – UPDATE (9/21 at 7:15 p.m.): The North Dakota Highway Patrol said two men suffered serious injuries Wednesday afternoon in a crash on Highway 2 west of Ray between a pickup truck and a tractor.
Investigators said the eastbound pickup driver failed to notice a slow-moving tractor also headed east.
The patrol said the pickup struck the tractor's rear end, and 67-year-old Thomas Daniel, of Ray, was thrown from the tractor.
Investigators said the pickup continued into the south ditch, and the driver, identified as 31-year-old Kyle Henson of Minot, had to be extricated.
Both men were taken to Tioga Medical Center for their injuries. The patrol said charges are pending against Henson.
The pickup was hauling a gooseneck trailer, and the tractor was hauling a bailer, at the time of the collision.
ORIGINAL STORY (9/21 at 6 p.m.): Emergency crews were busy Wednesday afternoon responding to a crash involving a tractor and what appears to be a flatbed vehicle hauling equipment just west of Ray along Highway 2.
Details are limited, including the status of the drivers, but the tractor had been split into two pieces.
The vehicles were lying in fields on each side of the highway when our news team arrived on scene around 4:20 p.m.
The North Dakota Highway Patrol and Williams County Sheriff's office responded.
Traffic was backed up while authorities attended to the scene.
This is a developing story. Stick with Your News Leader for updates.
Copyright 2022 KFYR. All rights reserved.